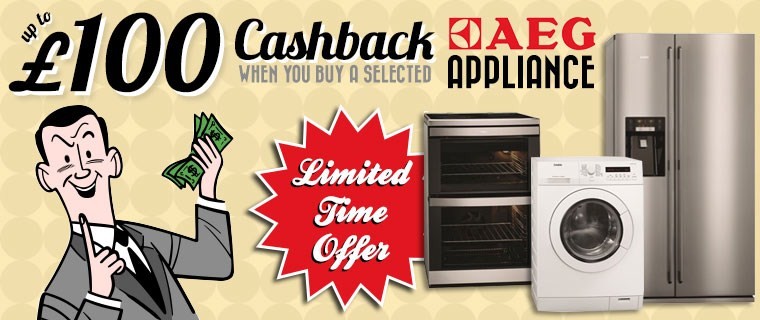 Get up to £100 cashback when you buy a new AEG appliance*. AEG are dedicated to creating appliances that help you in your everyday life. With at least 2 years warranty on all these products you won't be disappointed (don't forget to register your product with the manufacturer after purchase to validate the warranty policy).
This offer is available 25th February until 8th April 2013. To redeem your cashback you'll need to fill in this Claim Form, which also contains all the terms and conditions.
*on selected AEG products only
There are currently no items in Aeg Cash Back.
Fully Integrated
A++ Energy Efficiency
13 Place Settings
Width 60cm

A+ Energy Efficiency
Defrost Method Frost Free
Width: 54cm

Outstanding cleaning behind closed doors
Wash up 35 t-shirts in the large 7kg drum
20% more efficient than A energy rated models
7kg Load Capacity
A++ Energy Efficiency

A++ Energy Efficiency
Width: 56cm

7kg Load Capacity
C Energy Efficiency
4kg Drying Capacity
1200rpm Spin Speed

A+ Energy Efficiency
Defrost Method Frost Free
Width: 59.6cm

4 Zones
Fuel Type: Electric
Warranty: 2 years
Compact
A+ Energy Efficiency
6 Place Settings
Width 55cm

A+ Energy Efficiency
Defrost Method Frost Free
Width: 54cm

OptiSense: Minimum Consumption Always
Silent System Plus: for the most silent drying process
8Kg Drying Capacity
Dedicated Special Programs For tailored Dying
ProTex Dryer: For the gentlest way to dry

A++ Energy Efficiency
Width: 60cm

A++ Energy Efficiency
Defrost Method Frost Free
Width: 59.5cm