Product Information
RESOLUTION LIKE YOU'VE NEVER SEEN
The 4900 Series 4K Ultra HD TV features a resolution 4 times as much as your conventional TV. Over 8 million pixels combined with Philips' unique Ultra resolution upscaling technology work together to enhance your viewing experience. Details are flawless with improved sharpness, increased depth perception and superior contrasts.
REDISCOVER YOUR FAVOURITE CONTENT
Ultra resolution converts any content into sharper Ultra HD pictures. Images are refined with finer lines and deeper details no matter what the original source is. Rediscover your old DVDs or stream a film online and still have a crisp and smooth viewing experience. Pixel plus ensures brighter whites and deeper blacks every time.
NEW TECHNOLOGY, NEW DESIGN
Featuring new edge feet the 4900 series 4K Ultra HD TV has been engineered to have a floating effect. The new design has been intended to deliver a more immersive viewing experience, whilst producing a confident and stylish TV.
LIFELIKE EXPERIENCE
Thanks to Philips' micro dimming the TV's contrast has been optimised. This special software analysis the picture in 6400 different zones and adjusts it accordingly, delivering a life like viewing experience.
EASY CONNECTIVITY
Avoid the tangle of unsightly wires, the 4900 Series 4K Ultra HD TV has a single cable which carries both picture and audio from your devices. HDMI ensures the highest quality from source to screen using compressed signals.
With 2 USB ports you can easily playback your media from your USB memory stick, digital camera, mp3 player any other devices. Quickly share photos and music with friends.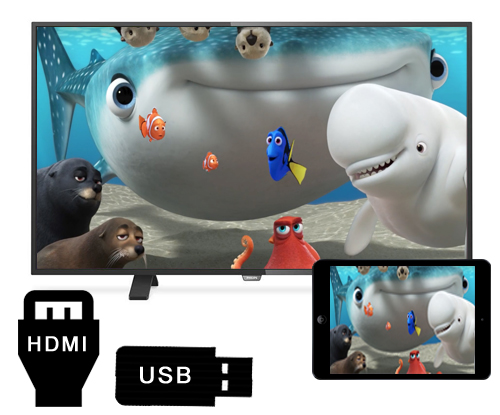 Dimensions: 96.8 x 61.6 x 25.7 cm
Weight: 9.5 Kg
Features:
43 Ich display
4K Ultra HD LED
Panel resolution 3840 x 2160
Dual core
Brightness: 300 cd/m²
Pixel Plus Ultra HD
400 Hz Perfect Motion Rate
Micro Dimming
3 HDMI ports
2 USB ports
Audio in (DVI)
Headphone out
Annual energy consumption 96 kWh