Product Information
Dimensions: H90 x W60 x D60 cm
Finished in an attractive metallic red, complete with a sleek glass lid and chrome finished controls the New World NW601DFDOL cooker will be a stand out feature in your kitchen.
Spacious and flexible dual fuel cooking
Equipped with duel fuel the New World NW601DFDOL cooker provides flexible cooking and plenty of space, ideal for a family home.
The main oven provides 65L of useable space and if that's not enough for you the top oven has a capacity of 32L, more than enough space to cook a full roast dinner and cook pudding in the top oven at the same time.
The main oven is an electric fanned oven, providing a regulated temperature throughout the oven which delivers even cooking results. Thanks to the fan you won't need to preheat this oven for most dishes, you may want to preheat the oven for the likes of soufflés and bread. The top oven is an electric conventional oven and variable grill. As this oven is a conventional oven it should be preheated before use. With a variable grill you can adjust the heat settings to get a more specific temperature.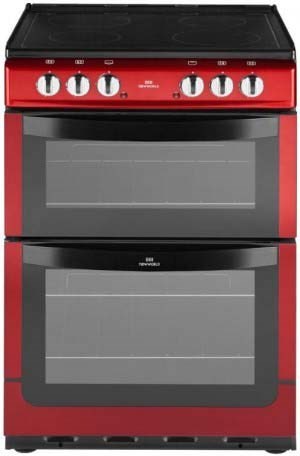 The New World NW601DFDOL cooker features a gas hob with four burners. With a gas hob you are delivered heat and the temperature you want instantly. The four burners are ready for a variety of pan sizes, there are two medium burners (2.0kW), one small (1.0kW) and one large (3.0kW).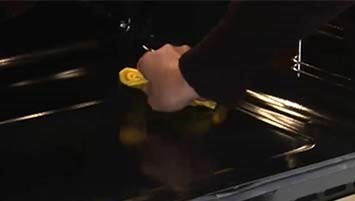 Easy clean
The interior of the ovens has been coated with an easy clean enamel which can be simply wiped clean enabling you to maintain a pristine oven effortlessly. The oven doors have removable inner door glass which allows an easy clean, so you can always see your dishes clearly. The hob has a glass lid which can act as a splash guard whilst cooking and also incurs auto shut off for the hob when closed.
Energy efficient
Rated A for energy efficiency the New World NW601DFDOL cooker is highly efficient, saving you money on your bills whilst being kinder to the environment.

Features:
Metallic red
Dual fuel
37L Top oven
Top electric conventional oven and grill
1 Shelf, 2 positions
65L Main oven
Fanned electric main oven
2 Shelves, 5 positions
4 Burner gas hob
Glass lid with auto shut off
Defrost
A Energy rating
Adjustable feet
Grill pan/trivet included
Easy clean enamel interior
Removable inner door glass