Product Information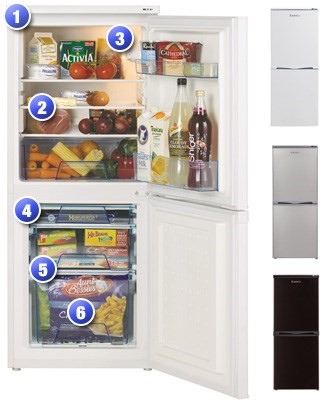 Compact Fridge Freezer
At only 122.5cm high and 50cm wide this compact fridge freezer is perfect for smaller kitchens. With 3 freezer drawers and 3 fridge shelves there's still plenty of capacity to store your food.
Safety Glass Shelves
Our glass shelves are toughened to provide safe support for your food and you can adjust their position for storage flexibility. As they are transparent, it's easier to see what you're looking for.
Interior Light
Find your favourite food more easily with the light in the fridge.
4 Star Freezing
Freeze fresh food and store frozen food for longer with our 4 star rated freezers which freeze at a temperature of -18 C or below.
3 Transparent Freezer Drawers
Transparent freezer drawers help you to find what you're looking for without having to empty everything out.
Large Freezer Drawer
The large drawer at the bottom of the freezer is great for storing bigger items.
A+ Energy Rating
LEC's refrigeration is A+ energy rated helping to reduce your energy bills and the effect on the environment.
Adjustable Thermostat
You can adjust the cooling temperature of the fridge to suit your preference or for the food you are storing. It's also useful to lower the temperature when you restock your fridge with new food.
Reversible Doors
Reversible doors give you the flexibility to have the door opening to suit your kitchen. You can set them to hinge on the left or the right hand side.
Easy Cleaning
The smooth surface and design of the interior make it easy to wipe our refrigeration clean.
Key Features
Internal light
Reversible doors
CFC/HFC free
2 safety glass shelves
Bottle shelf
3 storage drawers
Integrated handles
Ice cube tray
Technical Details
Energy rating: A+
Net fridge capacity: 93 Litres
Net freezer capacity: 45 Litres
Energy consumption annually: 193.4 kWh
Freezing capacity: 2 kg/24 hours