Product Information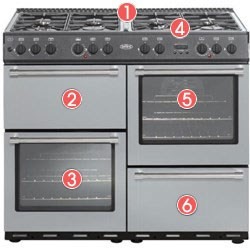 A gas hotplate with 8 burners
The heat change is immediate and precise so you can simmer gently as well as boil.
Variable electric grill
Grilling temperature can be altered by selecting a high or low temperature, ideal for grilling a variety of foods.
Conventional electric oven
Ideal for traditional roasting, this type of oven is hotter at the top than the bottom. You can put your meat in the middle, roast potatoes towards the top and a pudding towards the bottom. You'll need to preheat the oven to get it to the right temperature before you start cooking.
Clock and Minute minder
Set this timer to let you know when your meal is ready to come out of the oven.
Fanned electric oven
An even temperature is achieved through the oven as the air is circulated by an integral fan, making it perfect for batch baking.
Storage compartment
You can put your pans and bakeware away tidily in the handy storage compartment
Flame safety device
For added safety, this device is designed to detect if the flame goes out on your appliance and will cut off the gas supply immediately.
Easy clean enamel
Wipe away spills easily with our specially designed enamel which helps prevent food from sticking on to the surface.
AA energy rated
Both ovens are A energy rated. The energy rating of an oven tells you how efficient it is, with A rating being the most efficient - helping you save on your electricity bills.
Key Features
8 Variable Gas Burners
LED clock and minute minder
Separate variable electric grill
Fanned main oven
Second conventional electric oven
Storage compartment
Cast iron pan supports
Flame safety device - cuts the gas if a flame goes out
Both ovens are energy rated A
Dimensions (mm)
Height: 900-930 (adjustable feet)
Width: 996
Depth: 595
A Guide to Fanned Ovens
Find out the benefits of fanned ovens, and unlock the potential.
Open Door Grilling
Open door grilling on a conventional grill allows the air to circulate; giving you the best results every time.