Product Information

This is a graded product. A3 products may have slight damage and marks. All products are tested and are in good working order.
GRADE A3 - Minor exterior damage
Wash up in minutes with the Beko dishwasher. The integrated design enables the dishwasher to fit into your kitchen seamlessly. With automatic door weight adjustment the dishwasher will adjust itself to accommodate the weight of your kitchen cupboard door, making installation quick and easy.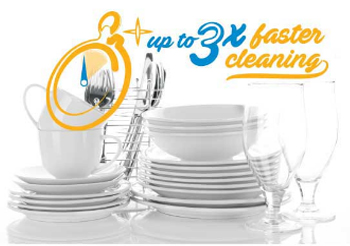 UP TO 3 TIMES FASTER CLEANING
The Beko 12 Place Fully Integrated Dishwasher has quick programmes available for when you're in a hurry. Choose from 30 minutes or 58 minutes depending on the level of dirt. Get clean, sparkling dishes in no time.
There are also a range of special programmes available to suit different load types. Ensuring your dishes and cutlery are impeccably cleaned and cared for.
CLEAN & SHINE
With the clean and shine programme you can have perfect washing and drying in just 90 minutes. The ultimate in convenience and time saving.
FLEXIBILTY
With a 12 place setting capacity you can wash all your dishes in one go.
With a flexible interior the Beko makes it easy for you to wash those bulkier dishes you might have previously struggled to load into the dishwasher. The plate supports easily fold down and the height of the upper baskets can be adjusted for more effective loading on the bottom basket.
The cutlery basket slides across the width of the dishwasher or it can be completely removed, enabling you to accommodate larger items.
The upper baskets cup racks can be folded out of the way when not needed, allowing you to utilise them for larger dishes.

SET & GO
The dishwasher features a timer delay 3-6-9 hours. Enabling you to set the appliance ready and for it to start when best suits you. Ideal for when you go out to work, return to clean dishes ready for that night.
ENERGY EFFICIENT
This dishwasher helps you save money on your utility bills, with low water and energy consumption. There's also a half load option that helps to save between 10% - 25% in energy and water consumption on the days where you have half or smaller loads.
Features:
12 Place setting capacity
A+ Energy rating
5 Programmes
Clean&Shine programme - perfect cleaning and drying in 90 min
Height adjustable upper basket for flexible loading
Time delay so the dishwasher can wash when it's convenient for you
Half load function
Upper basket with folding racks
Folding plate supports in lower basket
Removable cutlery basket
Salt & rinse aid indicator lights
12 L water consumption on an average wash
49 dB noise level