This is a graded product. A3 products may have slight damage and marks. All products are tested and in good working order.
GRADE A3 - Minor exterior damage - Dent to left edge of lower left door.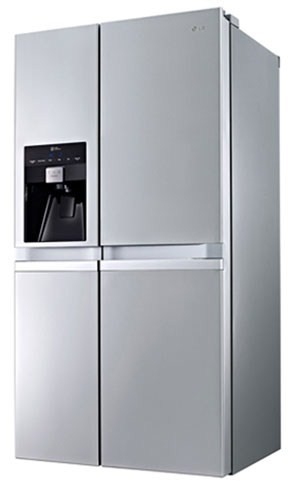 Stylish, spacious and eco-friendly, LGs American Fridge freezer in premium steel is not just a useful and practical appliance, it's a work of art. Take a look at some of the special features that make this appliance so luxurious:
How will this fit into my kitchen?
This American fridge freezer is a large appliance and will need space to accommodate it, so make sure you measure up carefully before ordering it:
Dimensions: (H) 1756mm x (W) 894mm x (D) 723mm
Ice and water dispenser
LGs American Fridge freezer comes with a large Ice and water dispenser, plumbed up to your mains water so that you don't have to remind yourself to top it up! The dispenser is a touch interface, presented in a sleek and simple surface making it easy to use.
Please note: To use the ice and water dispenser, you must get the fridge freezer plumbed, and it must be placed in an area suitable for it to be connected to the plumbing.
Storage Space
Drinks rack: to keep more fragile bottles better protected
LED lighting: to make sure you haven't left a bag of salad rotting away in the back!
Fresh 0° zone: a perfect place within the fridge to store meat or fish at zero degrees prior to cooking
Moist balance crisper: With a lattice top, this compartment allows better evaporation and circulation of moisture, keeping your vegetables fresh and crisp!
Design
The integrated handles are at counter level. Being the first of its kind on American style fridges within Europe, its easy opening motion are similar to door handles found on modern high-end cars.
If there weren't enough attributes to tempt you already, the whole fridge is finished with a premium steel coating, giving it a modern, edgy look.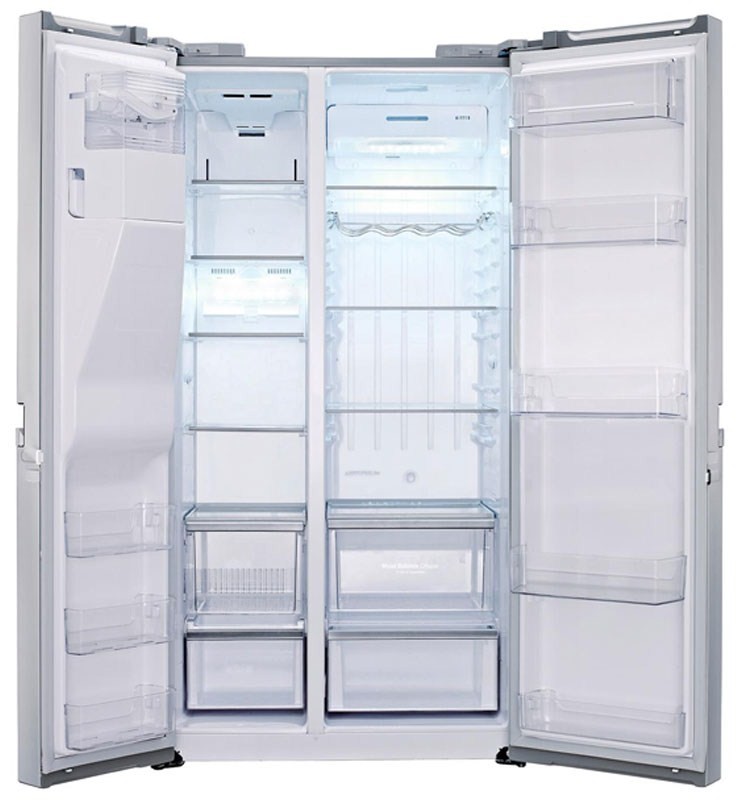 Linear compressor:
A linear compressor is a gas compressor that minimizes energy loss during conversion. This results in less noise because there are less friction points, meaning that this large fridge makes little sound.
Compressors of this type have a longer life and are more efficient than conventional refrigerator compressors. This has resulted in an A+ energy efficiency rating for the LG American Fridge freezer, despite its great size!
Large capacity
Fridge: 362L
Freezer: 178L
Linear compressor
A+ rated for energy efficiency
Ice and water dispenser
Crushed ice function
Stainless steel
No frost
Express freezing
Door alarm
Child lock
Safety glass shelves
10 Year warranty on the linear compressor
---
N.B. All large fridge freezers are doorstep or garage delivery only.