This is a graded product. A1 products have no obvious scratches, marks or dents. It will be fully bubble-wrapped for transportation and comes with the full manufacturer's warranty.
GRADE A1 - As new but box opened
This AEG stainless steel door is designed to fix onto the front of the F55200VI0 fully integrated compact dishwasher for a more sleek and professional look to the appliance.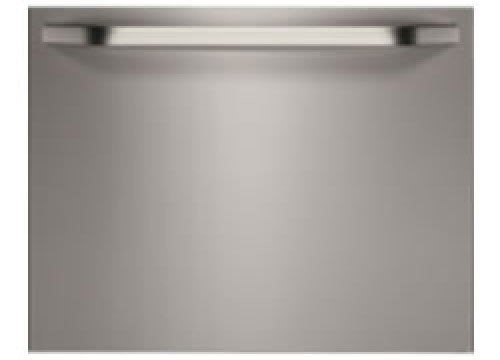 With a sleek steel design, this AEG dishwasher door is ideal if you have other stainless steel kitchen appliances that you want your new AEG dishwasher to complement, so that your kitchen design remains succinct and seamless.
Dimensions: (W) 594mm x (H) 459mm
By fixing this stainless steel door onto the front of your compact dishwasher, you save yourself time and effort from making a furniture door which matches your kitchen units fit onto the front. Instead simply fix this onto the front of your F55200VI0 AEG compact dishwasher and it will fit perfectly and look great.
Please note: This product is ONLY the stainless steel door for the AEG F55200VI0 6 place fully integrated compact dishwasher, click here to view the dishwasher.
Dishwasher furniture door
Stainless steel
Designed for F55200VI0 fully integrated compact dishwasher
Ideal for matching existing stainless steel appliances
Dimensions: (W) 594mm x (H) 459mm
---