Product Information

This is a graded product. A1 products have no obvious scratches, marks or dents. It will be fully bubble-wrapped for transportation and comes with the full manufacturer's warranty.
GRADE A1 - As new but box opened
A breath of fresh air
Remove virtually all types of common airborne pollutants detriment to your health and home with the Heaven fresh HF280 Air purifier. Hidden away within your carpets and soft furnishings lives microscopic dust that contains allergens. Allergens can be anything from dust mites and pollen to mould and bacteria. When inhaled, people can experience general discomfort that can cause sleeping problems and breathing difficulties. The HF280 is equipped with 6 leading technologies to reduces allergens in your home and alleviate asthma and allergy symptoms.

6 STAGES OF AIR PURIFICATION
1. Washable Pre-filter
Removes large particles such as dust, lint and hair.
2. Electrostatically-charged Plasma Dust Collector
Charged Plasma dust collector traps tiny impurities
3. Activate Carbon Filter
Removes gases, chemicals, VOC's and odours.
4. HEPA Filter
Traps 99.97% of pollutants as small as 1.0 microns.
5. Germicidal UV Lamp
Neutralises micro-organisms such as bacteria and viruses.
6. Air Ioniser
Energises the air with health beneficial negative ions.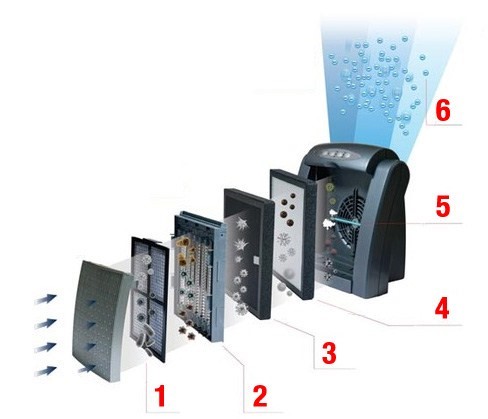 Key Features
For medium sized rooms up to 38 sqm.
UV light and negative ion indicator
Long-lasting, high-efficiency HEPA filter - 99.97% collection rate.
Electrostatically-charged plasma cell - traps pollutants like a magnet.
Activated carbon filter traps chemicals, gases and odours.
Germicidal UV lamp destroys micro-organisms.
Air-cleaning negative ions are circulated throughout the room.
Powerful yet quiet fan for maximum air circulation.
Washable pre filter to collect the larger particles.
Photocatalytic oxidation filter which effectively reduces chemicals, bacteria and odours.
1, 2 and 4 hour timer
built-in handle
1 Year Warranty
Technical information
Power consumption: 45 W (High Setting)
Ion output: 1,000,000 / cm3
UV: 20uw (254 Nanometers)
Dust Removal Rate: 99.97%
HEPA Filter Efficiency 99.97% at 1.0 microns / 80% at 0.3 microns
Clean Air Production Flow 71 ft3 per minute (High setting)
Fan Noise level 25 – 45 dB
Dimensions:
W x H x L: 193 x 315 x 300mm
Weight: 3.3Kg
Useful Information: