Product Information

This is a graded product. A1 products are 'as new' but have been box opened. All A1 products will be fully bubble-wrapped for transportation.
GRADE A1 - As new but box opened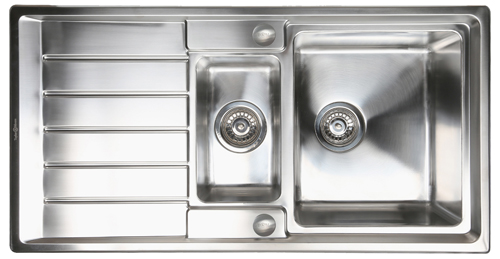 The Huron 1.5 bowl kitchen sink from Taylor & Moore provides a smart, contemporary design ideal for the modern kitchen with its clean lines and satin finish. Made from 0.8mm gauge stainless steel the sink is durable and easy to clean. With two pre-drilled tap holes and a reversible design the Huron sink is ready for you to select left or right orientation and to be combined with the tap of your choice.

Features
- Top mounting sink with inset installation
- 1.5 bowl design with practical side drainer, ideal for busy kitchens
- Reversible design with two pre drilled tap holes to select the desired orientation in your kitchen, end cap included
- Made from 0.8mm gauge stainless steel with a satin finish
- Fitted with sound absorbing material underneath the bowl
- Pre-fitted silicone sealing strips for a water tight seal
- Easy installation with pre-drilled tap holes & overflow
- The pack comes complete with x2 basket waste strainers, pipe kit & fixing clips
- Installation manual included
- 10 Year guarantee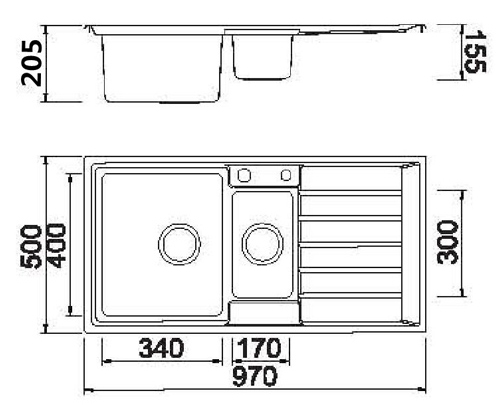 Depth: 205 mm
Width: 970 mm
Length: 500 mm
Minimum cabinet size: 1000 mm
Pre-drilled tap holes: 35 mm
Everything you need is included for easy installation
Pipe kit
Fitting clips
x2 Basket waste strainers
Overflow
Installation
Installation should be completed in accordance with valid local building and plumbing regulations. If you are unsure about installing the sink yourself, we would advise to contact a professional.
Care instructions
Clean with a damp cloth or a non-abrasive detergent. Always clean the sink along the steel grain. Wipe dry with a clean cloth. Do not use scouring-powder, steel wool, hard or sharp tools which can scratch the stainless steel surface.
Feature Summary:
Top mounting flush seamless fitting sink
1.5 bowl design with side drainer
Premium handmade stainless steel with a satin finish
Reversible design with two tap holes
Silicone sealing strips for a water tight seal
Everything included for installation
Installation manual included
10 Year guarantee
Additional Information:
Inset installation
Select the desired orientation in your kitchen, end cap included
The pack comes complete with x2 basket waste strainer, pipe kit & fixing clips
Fitted with sound absorbing material underneath the bowl