Product Information
This is a graded product. A1 products with no obvious scratches, marks or dents. It will be fully bubble-wrapped for transportation and comes with the full manufacturer's warranty.
GRADE A1 - As new but box opened
STYLISH, TRADITIONAL DESIGN
- Fast selling 90cm Chimney Hood
- Unbranded to suit every kitchen
- 3 Powerful extractor speeds
- Easy push button controls
- High performance 400m3/h extraction rate
- Re-circulating or ducted extraction
High quality design
With its unbranded appearance, timeless aesthetics and classic black finish, this great value chimney cooker hood is perfectly suited to match any kitchen environment and budget too. In fact, you'll be hard done by to find anything that even comes close to the high quality standard of this Electriq model at this great price.
Noise
Unlike conventional extractor fans which can often be intrusive when in operation, this cooker hood delivers impressive extraction performance and efficiency that result in lower noise emissions. This means you can leave the extractor running whilst you relax, eat or host in the kitchen without being disturbed.
Push button controls
There are five easy push buttons located on the front of the hood. With a simple push of a button you can activate the light or change the speed of the extractor. There are three speed settings allowing you to select a speed which is appropriate for what you have cooking. The more steam and odour in the kitchen the higher speed you will need.
Light it up
This chimney hood has a large strip of lighting positioned perfectly at the back of the hood. There are two incandescent bulbs in this panel, lighting up your space giving you a clear view of your culinary creations.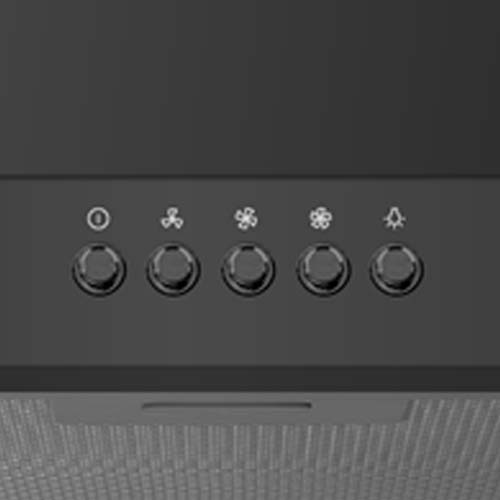 Extract or re-circulate?
This cooker hood boasts of extraction up to 400 cubic meters per hour - making it ideal for larger kitchens. The grease filter is aluminium so that it's easy to clean and dishwasher safe. You can choose to either extract the steamy air or re-circulate it.
Please note - This hood is top venting . The vent is located within the lower section of the chimney, the flexible pipe can be turned at 90 degrees to vent out of the wall at any point.
Extracting the air
Odours, grease, smoke and steam are extracted from the kitchen to the outside of your house via ducting.
This highly effective method requires a vent through an outside wall which can be expensive to install. To help keep costs down, we've included a 150mm diameter flexible hose that extends to 2m. If you have ducting already in place from an existing hood but of a different diameter, you can reuse it and connect to this hood with the 120-150mm adaptor that also comes supplied.
Recirculating the air
Odours, grease and smoke are drawn through a series of filters, before releasing the purified air back into the kitchen.
This method benefits from low installation costs and can be used in almost all kitchens. Annual replacement of the carbon filters is necessary to ensure optimum performance. If you decide you want the air to re-circulate then you simply need to purchase the carbon filter pack - eiQMIDCARBON
Features:
Fast selling 90cm Chimney Hood
Re-circulating or ducted extraction
Versatile traditional design
High performance 400 m³/hr extraction rate
3 Powerful extractor speeds
Easy push button controls
Unobtrusive 65dB noise level
2 Incandescent lights
125W Motor
150mm Air outlet with 120/150 adaptor
Please note: This chimney hood is designed to be fixed to a wall.


High
Quality
Manufactured in the same factories as the leading brands.

Great
Value
The UK's lowest prices with no compromise on quality.

Design and Technology
electriQ design high quality products using the latest techology.
Hundreds of Products
An extensive range of products from large appliances to gadgets.