Product Information
This is a graded product. A1 products are 'as new' but have been box opened. All A1 products will be fully bubble-wrapped for transportation.
GRADE A1 - As new but box opened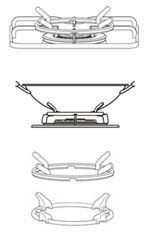 This high quality iQ wok adaptor allows you to use a traditional wok on a modern hob. With a defined cone shape and made from a sturdy cast iron material, this adaptor stabilises the wok above the burner and allows it to heat the wok equally so that food can be cooked authentically and thoroughly.
The cone shape directs the heat more precisely so that the wok heats up quicker and it means you can use a traditional concave shaped wok as supposed to a flat based wok that were designed to fit modern burners.
Please note: This wok adapter is for the IQGH701S gas hobs ONLY. Please only purchase this wok adapter to go with the IQGH701S gas hob.
Supports woks properly during cooking
Made from durable cast iron
Directs heat equally around the wok for even cooking
Suitable for traditional concave based woks
Made for the IQGH701S gas hobs


High
Quality
Manufactured in the same factories as the leading brands.

Great
Value
The UK's lowest prices with no compromise on quality.

Design and Technology
electriQ design high quality products using the latest techology.
Hundreds of Products
An extensive range of products from large appliances to gadgets.