Product Information
This is a graded product. A2 products may have minor visible dents & scuffs. All products are tested and are in good working order.
GRADE A2 - dent at upper rear edge.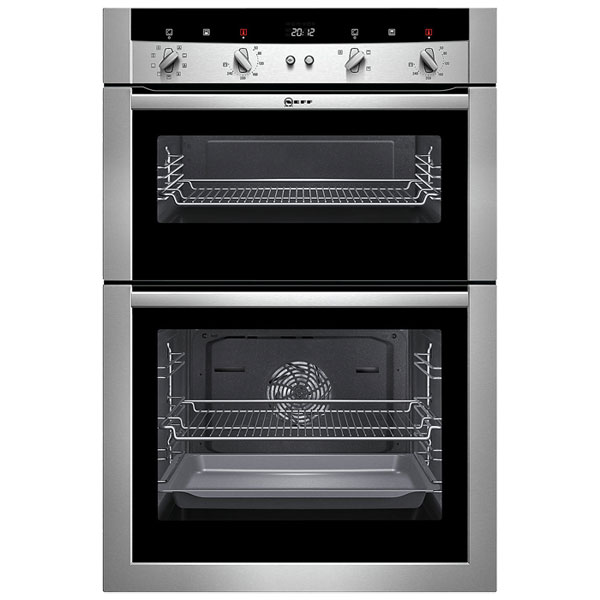 Show off your cooking skills with the Neff U15M52N3GB double oven.
Cooking technologies such as Circotherm® and handy features make cooking with this double oven more enjoyable and take away much of the stress that comes with preparing a big meal.
Circotherm® Technology
This Neff double oven includes a number of tried and tested features that set it apart from competing models to deliver a powerful cooking experience. Circotherm cooking technology draws air in from the oven using a powerful fan. The air is then heated and sent back into the oven.
As the air circulates around the oven, the desired temperature can be achieved more quickly and evenly than in a normal oven. This means less energy is used as little or no pre-heating is required.
This incredible cooking technology means the air is circulated evenly around your food so there is no need to turn or flip items such as burgers.
Easy to Maintain
The floor of this oven is coated in smooth enamel, while the roof and back walls each have Ceramiclean liners which each help to make the Neff U15M52N3GB really easy to keep clean, even after cooking a full Sunday roast.
The self-cleaning mode really takes the hassle out of cleaning your oven so you concentrate on producing delicious creations and spend less time cleaning.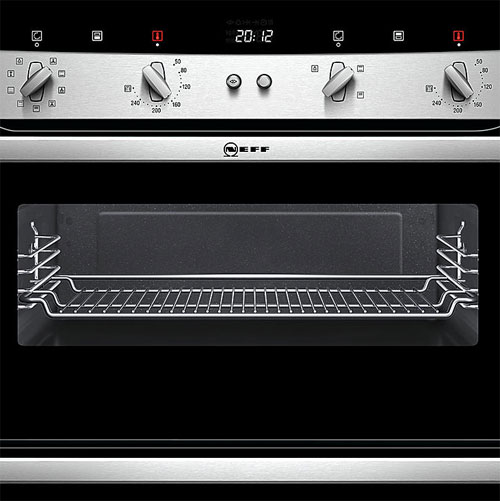 Adaptable Features
The Neff U15M52N3GB provides the ability to adjust the height and position of each shelf so you can cook your meals effectively. Adjust the height or remove shelves in order to fit in larger items like large chickens, or space them evenly to cook a variety of smaller items together. The full width enamel pan is perfect for those big roasts or simply as an added shelf.
The 35-litre upper oven features a variable grill so you can easily grill items while your main meal cooks in the lower oven.
Modern Design
This stainless steel, modern design electric oven features neat controls and door handles that match the colour of the overall appliance, making for an understated look in your kitchen.
Extra wide, triple glazed viewing windows give you a view of the whole oven so you can keep an eye on what you are preparing, without opening the door and losing heat each time.
Dimensions: H 88.8 x W 59.4 x D 55 cm
Top and main oven features
Features
Silver display EasyClock
QuickConnect shelf supports
Framed glass inner doors
Triple glazed doors
Heat reflective glass
Design
Bevelled glass fascia
Symmetrical design
Bevelled oval controls
Retractable controls
'U-form' door design
Curved bevelled bar handles
Standard accessories
1 full width enamel tray
1 high/low wire shelf
3 anti-tip flat wire shelves
'Recipes and Tips' cook book
Optional accessories
System steamer N8642X0EU
Baking stone
Top oven additional features
Features
1 x 40 Watt lamp
2 shelf positions
TitanEnamel
CeramiClean® liners (back, sides, roof)
Performance/technical information
35 litre capacity
Energy efficiency rating A
Main oven additional features
Features
Automatic on/off programmer
1 x 40 Watt lamp
4 shelf positions
TitanEnamel
CeramiClean® liners (back, side, roof)
Performance/technical information
67 litre capacity
Energy efficiency rating A -20%
Total connected load 5.7KW