Product Information
This is a graded product. A1 products are 'as new' but have been box opened. All A1 products will be fully bubble-wrapped for transportation.
70cm Canopy Cooker Hood
- Modern, versatile & discreet design
- Made from quality stainless steel
- Unbranded to coordinate perfectly with other appliances
- Quick extraction, eliminates cooking vapours and odours
Dimensions: W69.8 x D32 x H17 cm
Classic, integrated canopy design
With a classic canopy design that's unbranded and discreet this electriQ cooker hood is suited for all kitchen decors. The hood delivers quality results at an affordable price.
When venting out for extraction mode all the ducting will be discreetly hidden within the cupboard that the canopy hood is built in to. The hood has a high performance extraction rate, effectively removing odours and vapours from the kitchen.
3 Speed settings
Both the extraction speed and halogen lighting are controlled by a simple slider controls at the front of the hood. The steamier your kitchen, the higher speed you need. Turn your hood on before you begin cooking for a more effective extraction.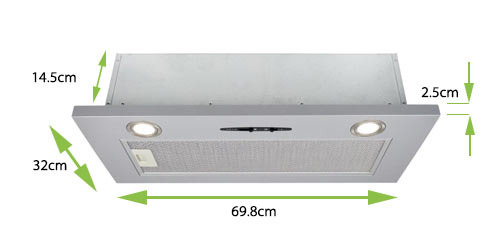 Low noise
Operating at 64db the hood produces low noise, quieter than your standard dishwasher or washing machine. Ideal if you also dine in your kitchen.
Efficient filtration
Fitted with an aluminium grease filter to effectively remove grease within the air. All electriQ chimney hoods have easy to clean, dishwasher safe grease filters already included. We would recommend that these are replaced annually, you can buy replacement filters for this chimney hood here.
If you are unable to vent the air out externally, the hood can be operated in recirculating air mode, using the optional carbon filter pack which will take away any odours. The carbon filter pack can be purchased here.
With this electriQ hood you have the option to extract or recirculate the air. If you are unsure which you should go for here is a simple guide to both;
Extracting air
- Odours, grease, smoke & steam are extracted
- Air is extracted via ducting to the outside of your house
- This requires a vent through an outside wall
Recirculating air
- Odours, grease & smoke are drawn through a series of filters
- The purified air is then released back in to the kitchen
- Method can be used in all kitchen types, eliminates ducting
- With this method you will need a carbon filter pack
- The carbon filter pack needs to be replaced every 3-6 months

Canopy hood
Aluminium dishwasher safe grease filter
Halogen lighting
Features:
Quickly eliminate cooking odours from a medium sized kitchen
Unbranded to coordinate with existing appliances
Effective extraction rate: 300 m³/hr
Halogen lighting gives clear visibility of cooking space
Easy to use push button controls with 3 speeds
Quiet extraction noise - 64db
Aluminium dishwasher safe grease filter
Energy rating - D
Carbon filter not included
125 W Motor