Product Information
This is a graded product. A1 products are "as new" but have been box opened. All A1 products will be fully bubble-wrapped for transportation.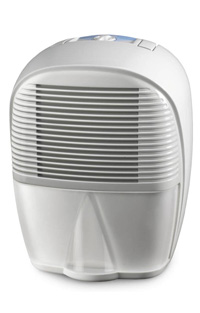 REMOVE EXCESS AIR MOISTURE
Excess moisture in the air caused by showering, cooking, laundry can lead to lead to condensation, damp and mould. DeLonghi's DEM10 10L Dehumidifier is designed to help maintain the indoor humidity and alleviate dampness in your home. It features a large 2L tank which is capable of extracting up to 18 pints per day. The Dehumidifier automatically stops once the tank is full. Plus, there's also a continuous draining option so you don't even have to worry about emptying the tank.

ADJUSTABLE HUMIDISTAT
The built-in humidistat lets you precisely set the room humidity to your desired level at the twist of a dial. You can even use the dehumidifier in cold rooms as low 2°C thanks to special anti-freeze technology.
MINIMUM NOISE EMISSIONS
Ideal for using throughout the day and even at night whilst sleeping, the DEM10 dehumidifier boasts an ultra low noise level of only 38 db that won't distrub you. Best of all, it does all this without ever compromising on dehumidifying performance.
DRY CLOTHES FUNCTION
Most of us need to dry laundry inside particularly during the colder seasons which can cause to a build up of condensation. The DEM10 not only collects the extra moisture from the air but it can help to dry your clothes quicker too.
VISIBLE WATER LEVEL
The transparent tank lets you see the dehumidifier performance while it is working. Once the 2L tank is full, the dehumidifier automatically stops extraction to avoid overflowing.
Features:
New highly efficient compact dehumidifier: - 10 litres (18 pints) extraction / 24 hours (at 32C 80% RH)
Compact dimensions ony 42cm high with pull up handle for easy carrying
Humidistat to set moisture to comfortable level and save energy
Electronic anti-frost device for lower temperature use
2 litre capacity tank with visible water level
Permanent drain facility (plumbing kit supplied)
Tank control system
Quiet operation
Washable dust filter
Collects demineralised water (ideal for use in steam irons etc)
Ecological gas R134a