Product Information
This is a graded product. A1 products are "as new" but have been box opened. All A1 products will be fully bubble-wrapped for transportation.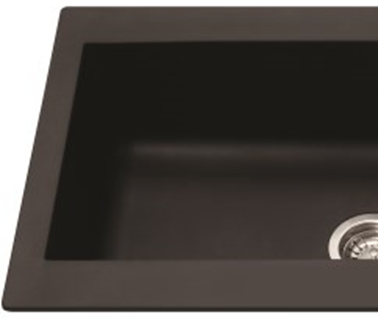 Open up the design potential for your kitchen with this smooth black composite sink from CDA. With an edgy rectangular design and one washing up bowl, this sink will give your kitchen a minimalist and modern look that's perfect for a contemporary kitchen.
Durable
This sink is made from composite asterite granite - a quartz resin creation that is specially designed to withstand the rigours of everyday kitchen use, making it durable and scratch and chip resistant – ideal for busy kitchens.
Flexible design
The sink bowl is reversible which means that when it comes to installation, you can pick which side you want the draining board on and can therefore choose which side the taps are positioned. This makes this sink versatile enough to go with multiple kitchen layouts and it's an ideal sink for both right and left-handed washers.
Please note: Taps are not included.
How will it fit into my kitchen?
The CDA black sink is designed to fit comfortably into your kitchen countertop for a streamlined appearance. You will need to cut out a rectangular shape in your countertop to fit the sink in, so please measure the sink dimensions and their cut out dimensions carefully to ensure it fits:
Overall Dimensions: (L) 860mm x (W) 500mm x (D) 220mm
Cut out Dimensions: Minimum Cabinet Size: 600mm x Cut-out Length: 476mm x Cut-out Width: 836mm
Main Bowl Dimensions: (L) 520mm x (W) 360mm x (D) 220mm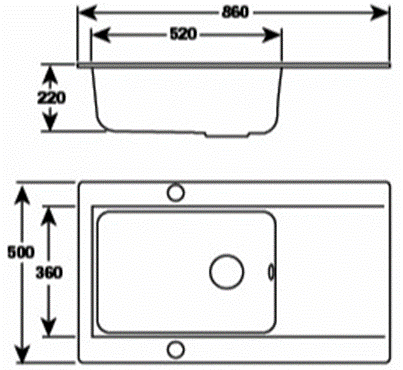 Other information:
Guarantee: 5 year manufacturer
Suitable for waste disposal
Black composite sink
Durable quartz resin material
Reversible bowl
Suitable for waste disposal
Dimensions: (L) 860mm x (W) 500mm x (D) 220mm