Product Information

This is a graded product. A3 products have moderate exterior damage. All products are tested and are in good working order.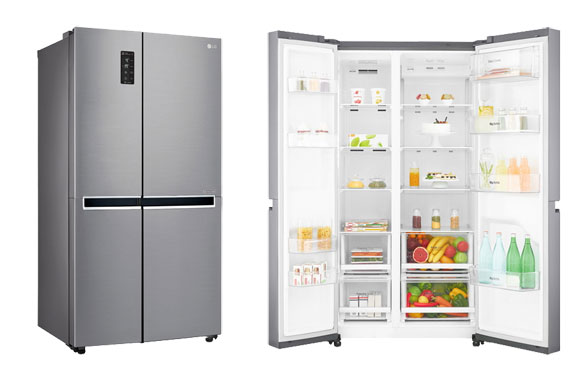 Huge Capacity Fridge Freezer
This freestanding fridge freezer from LG has great features and a stylish design that looks great with any kitchen. This fridge freezer has a total capacity of 626 Litres; the fridge consists of 406 Litres while the freezer holds the remaining 220 litres giving you all the space you need and features such as Smart Diagnosis and the Freshness Grill make storing and managing your groceries a breeze; this appliance keeps your food in optimal conditions to keep them fresh.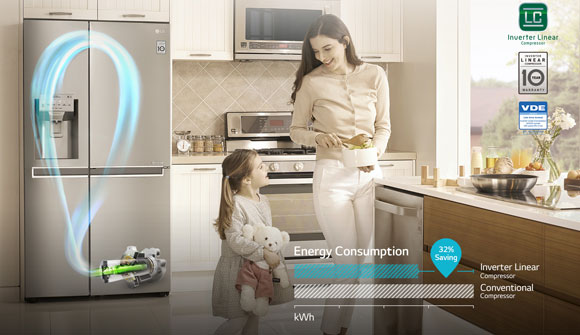 A+ Energy Efficiency & Smart Diagnostics
LG's innovative inverter linear compressor provides up to 32% in energy savings, increases the lifespan of the appliance and provides optimal cooling conditions to keep food fresher for longer. If a problem ever did arise with your fridge freezer, the smart diagnostic function is the perfect way to find what is wrong with your machine. Simply call the LG Customer Service Helpline and place the phone on the appliance; the appliance will then communicate what the problem is with a computer and an immediate solution is offered.
Total No-Frost
No frost technology regularly defrosts this fridge freezer's evaporator regularly, extending the lifespan of the appliance massively whilst also making it more efficient. Frost doesn't build up in the freezer, ensuring freshness, faster cooling and energy saving. The lack of frost makes it easier to clean your freezer shelves and drawers allowing for a cleaner, healthier freezer.
Key Features
A+ Energy efficiency rating
Child Lock
Door Alarm
Noise Level: 39Db
No Frost Technology
Inverter Linear compressor, with 10-year warranty
Multi Airflow
LED Lighting
No Frost
687 Litre net capacity
422 Litre fridge capacity
265 Litre freezer capacity
(H)179cm x (W)91.2cm x (D)73.8cm
N.B. All large fridge freezers are doorstep or garage delivery only.