Product Information

This is a graded product. A1 products are "as new" but have been box opened. All A1 products will be fully bubble-wrapped for transportation.
Dimensions: H30.5 x W51.2 x D40.5 cm
INVERTER TECHNOLOGY
Enjoy perfect, evenly cooked food every time with the market's best value Inverter Microwave from electriQ. Unlike traditional microwaves that don't always cook your food as well as you'd hope they would, leaving you with undercooked centres and dried out edges, this top-of-range low cost microwave features inverter technology which provides a perfect, even-cooking process for your food. It's also faster and more energy efficient than a traditional microwave so you'll be able to save money on your electric bills.
WHY YOU NEED AN INVERTER MICROWAVE;
1) Prevents common problems of shrinkage, overcooking and loss of nutrients.
2) Save time - 25% faster and 13% more efficient than other microwaves.
3) Save money on your electric bills.
4) Controlled and consistent power delivery across all temperatures.
5) Cook delicate foods evenly and to perfection.
6) Keep food warm until mealtimes instead of reheating.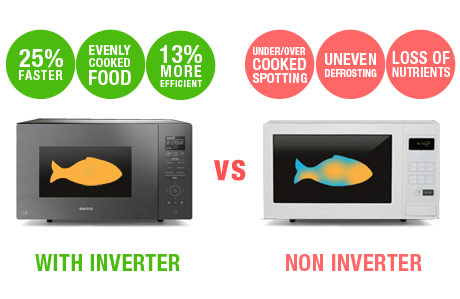 THE ONLY TOUCH SENSITIVE MICROWAVE DOOR
For added convenience this great value microwave boasts the world's first touch-sensitive opening door that responds beautifully to the slightest touch of your fingertips. Simply swipe your finger over the door release button and the microwave door will open automatically.
This groundbreaking innovation is perfect for when you have your hands full, or when they're dirty. It's also great for those with frail hands or joints because it requires little to no fingertip pressure for the sensor to respond. The flush touch control panel keeps the design of the microwave smooth and seamless so that it's as effortless to clean as it is to use.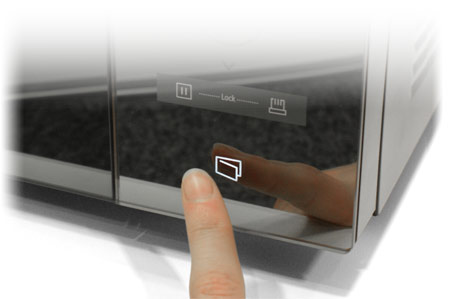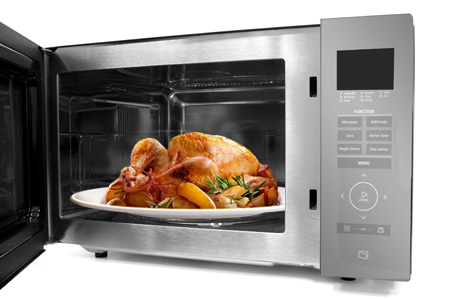 FLEXIBLE COOKING FUNCTIONS
This advanced microwave also boasts a powerful 1000W grill that can be used to give your microwavable lasagna or pizza the texture and flavour you'd get from traditional grilling.
As well as offering a useful grill function for browning this microwave also comes with 8 auto cook programmes, a speedy cooking function and the ability to defrost by either time or weight so you can take food from the freezer to the table efficiently and effortlessly.
To prevent accidental operation of these functions when you're not there, you can activate the child lock function.
POWERFUL 900W MICROWAVE
This inverter microwave has a maximum power level of 900W which can be modified into 5 power levels, perfect for altering the heat to suit different types of food. So, unlike conventional microwaves that that rely on pulse-on, pulse-off sequences to replicate your prefered power setting, this microwave will actually cook/defrost at your choosen setting for the entire cooking time. This means you'll be able to fully defrost a whole chicken all the way through without overcooking the edges, which would be almost impossible to achieve in a conventional microwave.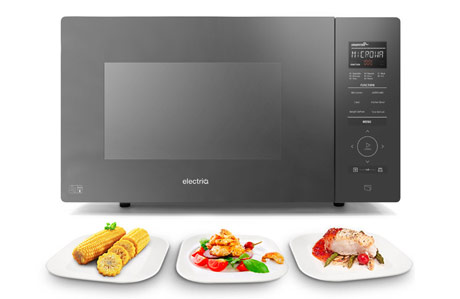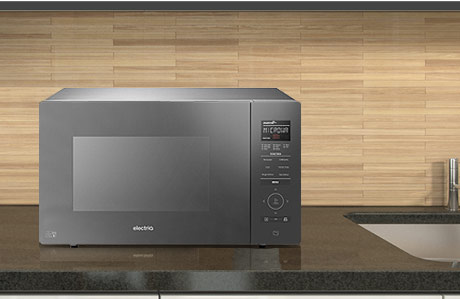 STUNNING DESIGN
This generously sized 25 litre inverter microwave comes with the added benefit of grill functionality making ideal for every household. The combination of the full glass door and touch controls gives this microwave an elegant and mirrored effect that will look fantastic in your kitchen. The high resolution LCD display allows you to see the time and functions clearly, even from the other side of the kitchen.
Features:
Large 25L capacity, excellent for any household
The latest Inverter technology for even cooking
25% faster than a normal microwave
Easy and convenient touch open door
Includes 1000W Grill for a golden crisp finish
900W microwave power
Exclusive touch sensitive door technology
Easy to use digital controls
Clear LCD display
1000W grill power
Practical auto menu
Child safety lock
Defrost without cooking the edges of your food
Stylish, easy clean glass front
Stainless steel interior
Spacious 31.5cm turntable

Download Instruction Manual


High
Quality
Manufactured in the same factories as the leading brands.

Great
Value
The UK's lowest prices with no compromise on quality.

Design and Technology
electriQ design high quality products using the latest techology.
Hundreds of Products
An extensive range of products from large appliances to gadgets.