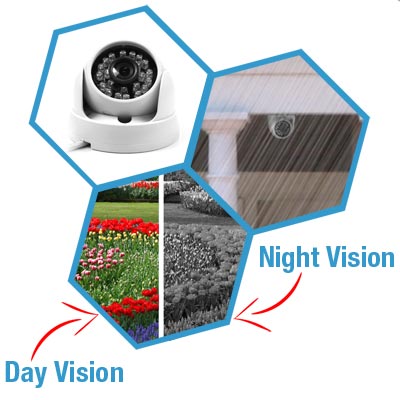 PEACE OF MIND
Add this Analogue Dome CCTV camera from electrIQ anywhere on your property and you will be rewarded straight away. The design of this camera makes it discreet enough not to be noticed and compact enough to really be fixed where it suits you. Night vision and motion sensors ensure you'll see everything that is going on in your property or business. And with such a low price, the benefits easily outweigh the cost.
INCREDIBLE DETAIL
You really won't miss anything with this CCTV camera. The 720p High Definition recording capabilities ensure you'll see every little movement and with the added convenience of connecting to your current DVR. The clarity of the footage is so crisp and clear that identification is made simple. You can say goodbye to the grainy, pixilated footage you've grown to know over the years.
ACTIVE AT ALL HOURS
This CCTV camera will be active and guarding your property, even when you're not. Infra-red technology means you'll receive clear footage in lowest lights, from dusk to the middle of the night. Motion detection sensors ensure the camera will jump into life with the slightest movement, so you'll know of any strange goings on through the night or day, while you're not there.
ALL YEAR COVER
Don't worry about this camera performing less well in wet or icy weather - we've got that covered. A weather proof body makes sure no water is let in and it will withstand most extreme weather conditions it may face. Just make sure it's mounted properly and you'll be given amazing security all year round.
Key Features
Easy to add to existing AHD CCTV systems
720p HD camera
Weatherproof design
Night vision up to 25m
Great value
Designed for DIY installation
**Please not this Camera will only work with Analogue High Definition DVR's