Product Information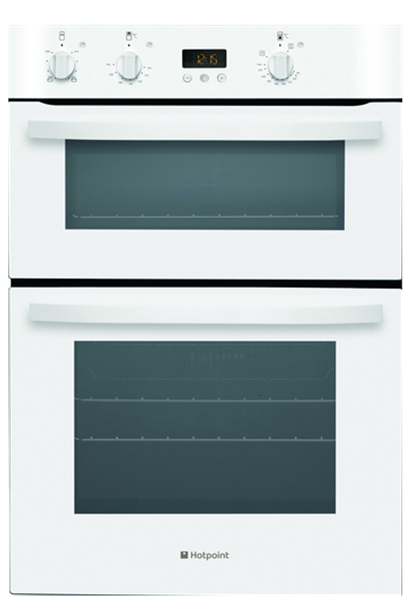 Boost the efficiency of your kitchen with the Hotpoint electric double oven. With five cooking functions this oven also has a fully programmable timer with a comfortable cooking capacity and an energy-saving design!
Size
Boasting a 65 litre main oven and an additional 35 litre conventional second oven, you'll have plenty of space to make family meals or special dinners for friends!
With 3 shelf spaces in the oven you can move the shelves around for the best cooking position for different foods as well as creating room for larger dishes.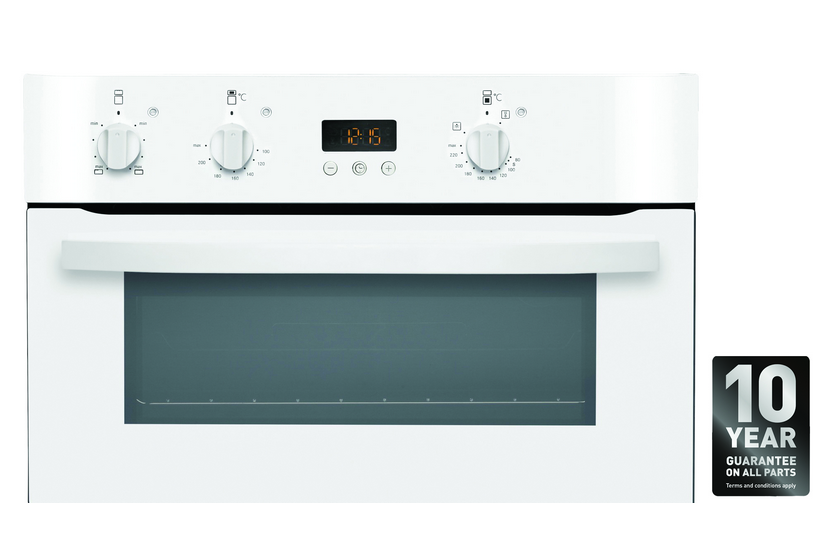 5 different oven functions
Fan oven: Using a circular heating motion, the main fan oven can reduce cooking times by 20%! An air flow cooling fan will make sure that the oven cools down quickly after cooking.
Defrost function: Circulating air around frozen food, the defrosting feature in the main oven will thaw foods quicker and much more hygienically than leaving it out on the kitchen counter.
Slow cooker function: Serve up tender food with the help of the slow cooker feature. Keeping at a constant 90° temperature, the slow cooking function is also great for keeping plates or food warm.
Conventional Oven: Found in the top section of this electric double oven, this function is ideal as extra space to cook larger meals.
Twin Variable Grilling: Full or half grill, this function will cook food beautifully! Whether it's cheese on toast, grilling meat or browning food this variable grill will take cooking to new culinary levels.
Fully programmable timer
This double oven will cook to your schedule with its 24 hour electronic programmable timer. Presented on an easy-to-read LED display you can set cooking duration times, start and end times to the oven or a minute minder.

Energy efficient
This Hotpoint oven has an AA energy rating that makes it a cheap oven to run.
Energy efficient double glazing and heat-reflective glass inner doors keeps heat in, helped by bright oven lights that save you from opening the door constantly.
Meanwhile internal chimney venting maintains cooking temperatures by improving air movement in the oven, reducing cooking times and leaving you with evenly cooking food and savings on the energy bills!
Easy to clean
Easy clean enamel and inner door glass makes sure that cleaning this double oven will be a breeze. With just a quick wipe and you can keep this oven looking fantastic all the time.
Electric circulaire fan oven with 5 programmes
Main oven: Circulaire Fan, Defrost Setting, Slow cook setting
Top oven: Conventional Oven, Twin Variable Grilling
Easy clean enamel oven finish
24 hour electronic programmable timer with time control