Product Information

WAKE UP AND SMELL THE COFFEE
This nifty pack includes the electriQ coffee grinder and milk frother. Affordable essentials you need to enhance your coffee experience. Scrap the bland supermarket instant coffee and grind up your own fresh and flavoursome beans. A perfect gift for coffee lovers or an excellent investment for your morning brew.
The electriQ coffee grinder can grind coffee beans, spices, nuts and whole grains with ease and efficiency. The electriQ milk frother enables you to heat or froth milk at the touch of a button, easily achieve that perfectly foamy top for your homemade lattes.
TAKE ON THE ROLE OF BARISTA
The electriQ coffee grinder and milk frother set make it super easy for you to create and enjoy barista style coffees from the comfort of your own home.
With a single push button the coffee grinder is easy to operate, and with a transparent lid you can see just how finely you are grinding the contents. The shape of the coffee grinder itself ensures uniform and even grinding. The grinder has a safety lock system, only grinding when the lid is locked into place, no accidental or surprise grinding.
The milk frother has dual functionality, with interchangeable whisks, one for heating the other for frothing. Making it easy for you to bring your milk to life, creating the perfect bubbly, frothy base or top for your coffee creation. With the ability to froth hot or cold milk this little gadget is not only great for hot drinks but also ideal for shakes and smoothies.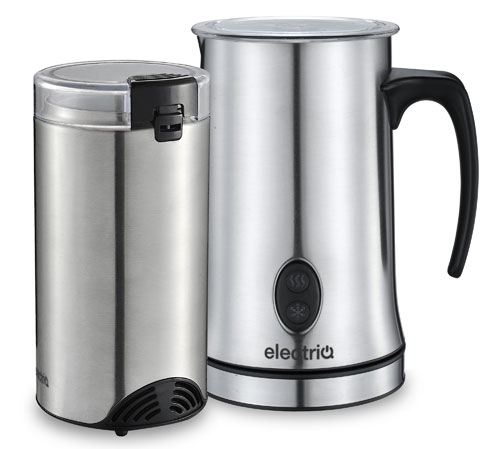 PERFECT FOR ENTERTAINING
Whether your entertaining guests or simply treating yourself, with the help of the electriQ coffee grinder and milk frother you can create coffees, cappuccinos, lattes, mochas, hot chocolates, shakes and more like a professional.
The coffee grinder has a capacity of 50g, enabling you to grind plenty of beans to make up to 10 cups of coffee. Perfect for filling up your cafetiere.
The milk frother can froth up to 250ml of milk at once, or heat up to 500ml. Heats milk to around 65°C a perfect temperature which prevents scalding milk. With a double wall design the frother ensures the contents maintains its heat, ready for when you need it or a later top up. With a non-stick interior it's easy to clean.

POWERFUL GRINDING
Equipped with tough stainless steel blades and a powerful 150watt motor the grinder can handle more than just coffee beans. Use the grinder as a full kitchen assistant, grind up spices, nuts and wholegrains. Get creative and mix up your own spice blends.
WHAT'S IN THE BOX?
Coffee grinder
Milk frother
Instruction manual
Features:
Enjoy homemade barista style coffee
Enhance your drinking experience
Grinds coffee, spices, nuts & wholegrains
Quickly & easily froth milk
Heat milk up to 65°C
Great for entertaining
Coffee Grinder:
Stainless steel design
Transparent top lid
Safe switch
Safety lock system
Simple to use push button control
Stainless steel blades
Easy to clean
50g Coffee bean capacity
Grinds coffee beans, nuts & spices
Voltage: 150W
Dimensions: 8.5x17cm
Milk Frother:
Stainless steel design
Froth or heat milk at the touch of a button
Insulating double wall design
Non-stick coating interior for easy cleaning
Cold or hot frothing
Milk foamer capacity: 250ml
Milk heater capacity: 500ml
Heats milk up to 65°C
Detachable power base
Automatic switch off
Non-slip silicon feet
Voltage: 650W
Dimensions: 10x18cm


High
Quality
Manufactured in the same factories as the leading brands.

Great
Value
The UK's lowest prices with no compromise on quality.

Design and Technology
electriQ design high quality products using the latest techology.
Hundreds of Products
An extensive range of products from large appliances to gadgets.