800 WATT
DEFROST
20 LITRE
5 PRE-SETS
RETRO THROWBACK
The Retro electriQ microwave will add an instant splash of style to your kitchen with its retro inspired design. With a sleek, cream, gloss finish the microwave brings a natural shine to your worktops.
Featuring clean, chrome controls this microwave is not only stylish but easy to navigate. The interior cavity of the microwave has a smooth white finish, making it super easy to wipe clean. With an output power of 800W the Retro electriQ microwave is one of the more powerful options within this price range.
GENEROUS 20 LITRE CAPACITY
With a 20L capacity the Retro electriQ microwave provides enough space for whipping up a ready meal or defrosting something straight from the freezer. The 245mm turntable perfectly fits a standard dinner plate.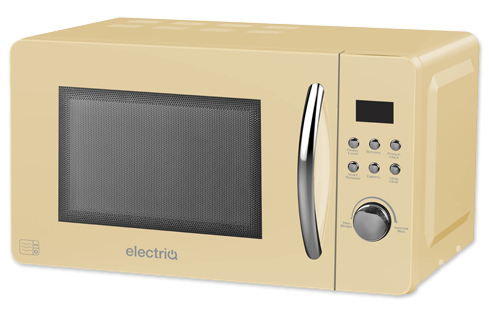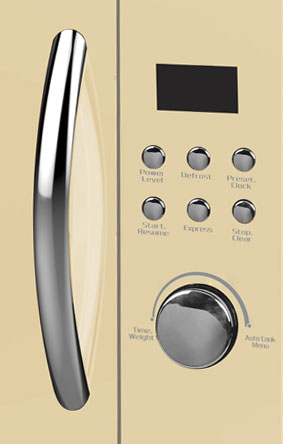 PRACTICAL PRE-SETS
This stylish microwave features 5 pre-sets for you to select from, taking the guess work out of cooking. Quickly reheat leftovers, bake a potato to perfection and reheat beverages with easy. The 5 pre-sets include; popcorn, pizza, beverage, potato and fish.
DEFROST THE RIGHT WAY
Forgot to defrost your planned meal the night before? The Retro electriQ microwave is perfect for times like this. Quickly and easily defrost your food safely and hygienically. The defrost function has 3 settings for you to choose from, you get the best results calculated by weight.
D1 – Defrost meat from 0.1 to 2.0 kg
D2 – Defrost poultry from 0.2 to 3.0 kg
D3 – Defrost seafood from 0.1 to 0.9 kg
EXPRESS
In a hurry? Hit the express button for a quick 30 seconds microwave session on full power. Continuously pressing the express button increases the session by 30 seconds each time the button is pressed. Great for warming up a cuppa or quickly melting a cheesy top on your prepared meal.
PERFECTLY TIMED
Whether you're preparing a large meal with multiple appliances on the go or not quite ready for your microwave dinner, with the Retro electriQ microwave you can time everything perfectly. With the delayed function you can pre-set the cooking menu and time, microwaving will then start at your set time.
There's no need to hover by the microwave waiting for it to finish, the Retro electriQ microwave lets you know when it's finished with three beeps. If you don't immediately press the stop button or open the door the beep will sound again at an interval of 3 minutes, just in case you forgot about it.
Features:
20L Capacity
800W Output power
5 Pre-set power levels
Defrost setting
Cooking end signal
Easy pull handle door
Sleek & stylish cream gloss finish
Clean white interior cavity
---