Packed with features including a powerful 1000W motor, 3 different mixing tools and 8 speed settings, this professional stand mixer from electriQ will help take your baking to the next level. Whether you're an amateur or well-practiced baker, you'll wonder how you ever baked without it!
Stand mixers can whisk, beat and knead much quicker than you can by hand, and the 1000W motor (with an incredible output power of up to 1500W) makes short work of kneading even the firmest of dough, giving you perfect results... without the arm ache!
With a 5.2 litre mixing bowl, there will be more than enough to go around, so your family and friends can enjoy your tasty treats as well! From cakes to ice cream, pastry to pizza, you'll be spoilt for choice on what to make next.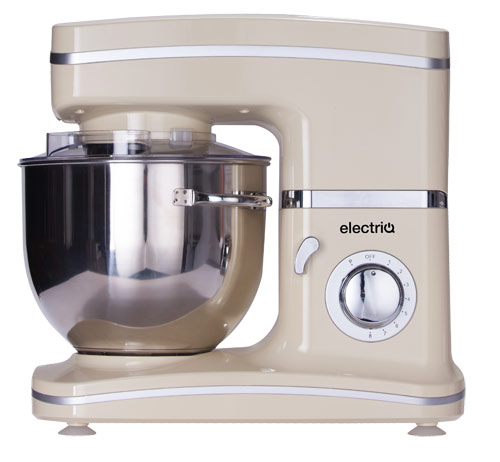 LESS MESS, BIGGER RESULTS
This mixer features a head that can tilt up to 33°, making it much easier to add ingredients to the bowl before and during the mixing cycle. There'll be no more spilling flour next to the bowl and finishing up with less bakes than you'd hoped!
It uses a planetary style mixing action which means it spins in the opposite direction to the mixing tool to ensure that all areas of the bowl are covered and no parts of the mixture get left out.
8 speed settings even let you tailor each cycle to suit the ingredients and overall mixture perfectly and produce much better results than you could by hand. Pulse control provides bursts of power, perfect for those thicker doughs and mixtures.
HUGE POSSIBILITIES
If you are just an occasional baker, you might not think that you would use a stand mixer enough to be worth buying, but there are so many possibilities to make it an integral part of your kitchen.
Take Sunday dinner for example. You slave away, whisking your Yorkshire pudding mix, mashing the potatoes and creating delicious sauces and gravy. The electriQ stand mixer will make this so much easier as it can do the hard work while you concentrate on something else.

VERSATILE MIXING TOOLS
This mixer comes with three interchangeable mixer tools that are suited to different types of mixtures, so that you can mix a variety of ingredients with ease. All of the attachments are dishwasher safe, so cleaning up is easy.
Whisk: Whether you're making light and airy meringues or some whipped cream to go with them, this wire whisk will fluff and puff your ingredients to help you make light and fluffy delights. Performing at its best on speeds 7-8, this whisk will cream ingredients to perfection.
Beat: This all-round accessory is perfect for dealing with heavier mixtures such as cake mixtures. Designed to mix thoroughly and carefully on speeds 3-6.
Dough hook: From pizzas to loaves, the spiral dough hook provides you with tactile and smooth dough within minutes. Just pop the mixture on speed 1 or 2 and let the dough hook do the hard work for you.
All of the attachements are dishwasher safe, making them really easy to clean ready to be used again.

Features:
5.2L Dishwasher safe bowl manufactured with quality 304 stainless steel
8 Speed settings for precision mixing
Pulse control for intermittent mixing
Includes 3 mixing tools and spatula - all dishwasher safe
Thorough planetary style mixing action
Powerful 1000W motor with a max output of 1500W
10 Minute stop protection
Splash control lid
Robust metal gear mechanism