60cm Conventional Rear Venting Cooker Hood
- Top venting cooker hood
- Classic design, with a versatile white finish
- Unbranded to coordinate with your existing appliances
- Effective extraction, eliminating cooking odours and vapours
Dimensions: W60 x D50 x H14 cm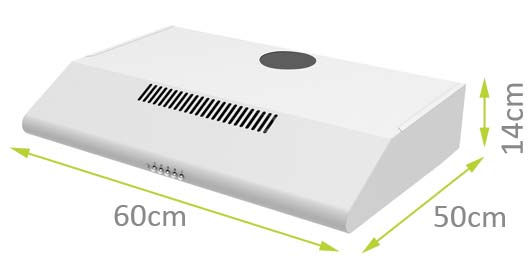 Quality results at an affordable price
This electriQ hood has a classic design in a versatile white finish. The fresh white finish is acrylic menaing there will be no signs of finger prints and smudges. Unbranded this hood coordinates perfectly with all your existing appliances.
3 Speed settings
Both the extraction speed and lighting are controlled by simple push buttons on the front of the hood. There are three speed settings enabling you to select a speed to suit what's cooking. The more odours and vapour, the higher the extraction speed.
Low noise
Operating at 65db this hood emits low noise. Quieter than your dishwasher it's easy to enjoy a meal in your kitchen whilst the hood is still operating.
Efficient filtration
Fitted with an aluminium grease filter to effectively remove grease within the air. All electriQ cooker hoods have easy to clean, dishwasher safe grease filters already included. We would recommend that these are replaced annually, you can buy replacement filters for this chimney hood here.
If you are unable to vent the air out externally, the hood can be operated in recirculating air mode, using the optional carbon filter pack which will take away any odours. The carbon filter pack can be purchased here.
With this electriQ hood you have the option to extract or recirculate the air. If you are unsure which you should go for here is a simple guide to both;
Extracting air
- Odours, grease, smoke & steam are extracted
- Air is extracted via ducting to the outside of your house
- This requires a vent through an outside wall
Recirculating air
- Odours, grease & smoke are drawn through a series of filters
- The purified air is then released back in to the kitchen
- Method can be used in all kitchen types, eliminates ducting
- With this method you will need a carbon filter pack
- The carbon filter pack needs to be replaced every 3-6 months
Features:
Top venting conventional hood
Re-circulating or ducted extraction
Unbranded to coordinate with existing appliances
Effective extraction rate: 200m3/h
incandescent lighting to give clear visibility of cooking space
Easy to use push button controls with 3 speeds
Quiet extraction noise - 65db
Aluminium dishwasher safe grease filter
Air outlet 120mm
Optional Carbon filter pack available separately
125W Motor