This innovative 8Kg washing machine from LG makes laundry day a breeze. With an LED display, clear controls and smart diagnosis it's easy to use. Equipped with a powerful 1200rpm spin speed, 10 programmes and 6 tumble motions it takes good care of your clothes and withstands the test of time.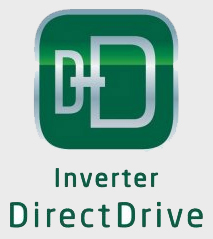 LESS VIBRATION, LESS NOISE
The LG 8kg 6 Motion DD Washing Machine has one of the best motors on the market. There's nothing standard about this direct drive motor, super reliable and very quiet. The washing machine wont disturb you, even at night in the case of an emergency wash.
6 MOTIONS FOR OPTIMISED FABRIC CARE
Equipped with 6 Motion Direct Drive technology this washing machine moves its drum in multiple directions to give fabrics the proper care whilst delivering ultra-clean clothes. Whether you have stubborn stains to remove or delicate garments to take care of the LG 6 Motion DD Washing Machine knows exactly what to do.

Laundry is constantly submerged in water & gently rolled. Delivers a quieter wash.
Helps prevents creases, continuously lifts laundry to the top of the drum & drops.
Dissolves detergent quickly for improved wash performance.
Standard turning motion.
Spins & sprays, ensuring clothes are evenly and thoroughly soaked.
Perfect for delicates, gently rocking laundry for a hand wash effect.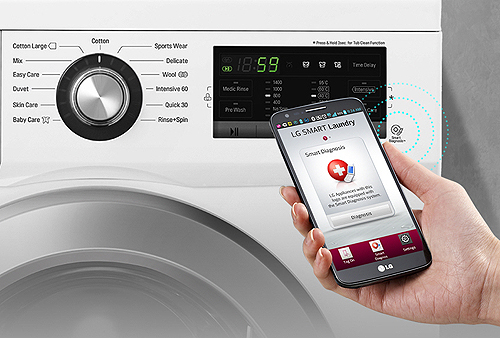 INTELLIGENT WASHING
This intelligent washing machine will weight your laundry load and automatically select a washing and rinsing time for perfect results. This clever process saves you money as the machine lowers energy and water consumption.
SMART DIAGNOSIS
LG's Smart Diagnosis technology provides hassle free trouble shooting for the rare instances you may experience problems. There's no need to wait in for a technician, simply call the LG helpline and place your phone on the appliance. The appliance then communicates with a computer which diagnosis the issue in seconds, providing an immediate solution.
ENERGY EFFICIENT
The LG 6 Motion DD Washing Machine has been given top marks for energy efficiency with an A+++ rating. The washing machine uses less energy and water but still provides quality washing, resulting in lower energy bills, saving you money.
Dimensions: H85 x W60 x D57 cm
Features:
Energy efficiency A+++
6 Tumble motions for ultimate laundry care
Direct Drive
8kg Capacity
1200rpm Spin speed
10 Wash programmes
Programmes include: Sportswear, Quick30, Cotton, Wool & Silk care
Delay timer: 3-19hrs
LED display
Child lock
Variable spin speed: 1200/800/400/No spin
Also available in white: F1296TDA