Product Information
This Baumatic Chimney cooker hood delivers effective air extraction or recirculation, efficiently clearing steam and odours form the kitchen at a maximum rate of 500m³/hour. The hood is easy to use with simple push button controls. There are 3 speed settings to choose from and halogen lighting to illuminate your cooking space. Finished in stainless steel with a classic design the hood is easy to coordinate with your existing appliances and fits beautifully within contemporary and traditional style kitchens.
POWERFUL EXTRACTION
Cater the cooker hoods extraction speed to suit what's cooking, There are three speeds to choose from. Lower speeds provide efficient air circulation when steaming or simmering, whereas higher speeds are better for frying and clearing particularly strong odours. This cooker hood can reach a maximum extraction rate of 500m³/hour.
The hood has three metallic grease filters, effectively stopping grease from clinging to fabrics within your kitchen and clothing. The filters can all be removed and washed to ensure they carry on working efficiently.
LITTLE DISTURBANCE
This chimney cooker hood has a noise rating of 57dB, when on maximum speed. it makes less noise than other models on the market. Making it ideal for open plan living spaces and kitchen diners, as you'll get little disturbance whilst the hood is in operation.
ILLUMINATE YOUR SPACE
Equipped with two halogen lights the hood provides great visibility for your cooking space. Leave the lights on if dining in the kitchen for some ambiance.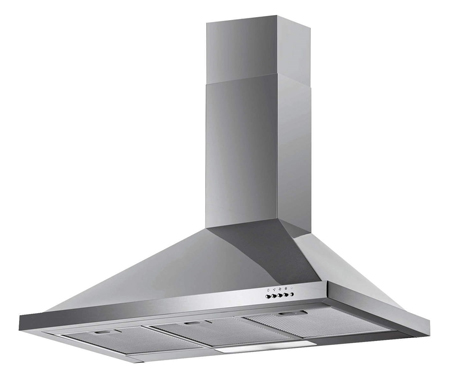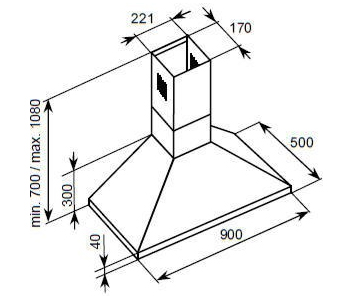 EXTRACT OR RECIRCULATE
This Baumatic hood can either extract or recirculate air within the kitchen. Extraction is the more effective choice, however extraction is not always possible in some homes.
If choosing to extract air the hood needs to be vented out. A compatible ducting kit will need to be purchased separately, this cooker hood has a 150mm ducting diameter.
If recirculating air rather than extracting a ducting kit is not needed. However a carbon filter should be purchased separately, this effectively keeps odours under control.
FITTING
When fitting a cooker hood you need to consider the size for efficient air extraction in your space. This hood is suitable to be placed above 90cm wide hobs, as the hood can effectively remove the amount of steam generated by each cooking zone on the hob.
DIMENSIONS: H70 x W90 x D50cm
Features:
Quickly and effectively clears steam & odours
Extract or recirculate air
Suitable for 90cm wide hobs
3 Powerful speed settings
Maximum extraction rate: 500m³/hour
Easy to use push button controls
3 Washable metallic grease filters
2 Halogen lights for cooking visibility
Maximum noise level: 57dB
Annual energy consumption: 97 Kwh
Energy rating: E
2 Year manufacturer warranty
Ducting diameter: 150mm
Please note: This chimney hood is designed to be fixed to a wall.