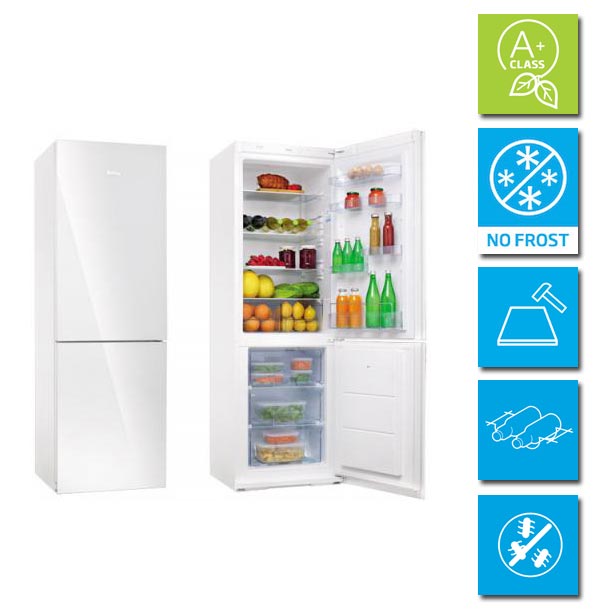 Energy Rating A+
Elegance cooling appliances represent the highest energy class, A+. It means low energy consumption which will result in lower electricity bills which consequently saves money. Since every refrigerator works 24 hours a day, 365 days a year, energy class is very important.
No Frost Freezer
Innovative cold air circulation system ensures optimum and equal temperature inside the whole freezer compartment, and the excess of moisture is automatically discharged to the outside. The No Frost function causes that no frost arises in the freezer and avoids time-consuming defrosting and cleaning the freezer.
Safety Glass
Shelves inside the fridge may carry up to 100 kg! They also feature an overflow protection as the raised frame around the shelves makes sure that liquid, for example spilled milk, stays on the shelf instead of dripping down onto lower shelves.
Folding Bottle Rack
Provides more secure and easy storage for even five big bottles of your favourite drinks.
Anti-bacterial System
Antibacteria System protects foods and products inside the refrigerator from bacteria and mould which may cause unpleasant smells and shorten storage time. The Antibacterial System prolongs the freshness of food.
Universal Doors
Reversible: can be mounted on the left or right side. The freezer drawer can be fully slid out when the door is open at the right angle.
Automatic Defrosting Fridge
Auto defrosting technology means your refrigerator defrosts itself automatically, saving energy and saving you the time, effort and inconvenience of manual defrosting.
Key Features
A+ Energy efficiency rating
Reversible doors
Fully frost free
Folding bottle rack
214/84 L net fridge/freezer capacity
LED lighting
4 Safety glass shelves, including crisper cover
2 Fruit & veg drawers
3 Freezer drawers