Product Information
LG Freestanding Fridge Freezer
This freestanding fridge freezer from LG has great features and a stylish design that looks great with any kitchen. This fridge freezer has a total capacity of 318 Litres; the fridge consists of 225 Litres while the freezer holds the remaining 93 litres giving you all the space you need and features such as Smart Diagnosis and Nature Fresh make storing and managing your groceries a breeze; this appliance keeps your food in optimal conditions to keep them fresh.
Smart, Highly Efficient Appliance
LG's innovative inverter linear compressor provides up to 32% in energy savings, increases the lifespan of the appliance and provides optimal cooling conditions to keep food fresher for longer. If a problem ever did arise with your fridge freezer, the smart diagnostic function is the perfect way to find what is wrong with your machine. Simply call the LG Customer Service Helpline and place the phone on the appliance, the appliance will then communicate what the problem is with a computer and an immediate solution is offered.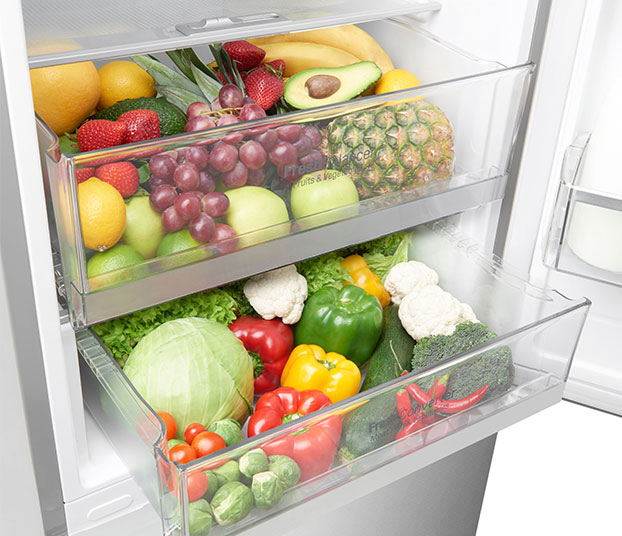 Fresher For Longer
Fresh Balancer, Fresh Converter and NatureFresh Cooling are all part of the NatureFresh system. The innovative system preserves food's flavour and freshness for longer by keeping the humidity at an adequate level for fruits and veg, storing meats and fish at the correct temperature and circulating cool air throughout the fridge through many separate vents; provides 76% better cold air circulation compared to other standard refrigerators.
Key Features
Reversible door
A+++ Energy Rating
Inverter Linear compressor
Smart Diagnosis
Express Freeze function to rapidly freeze new items and lock in nutrients
Eco Friendly mode
Visual door alarm
Control panel lock
Treat your foods to natureFRESH
FRESH balancer
FRESH Converter
NatureFRESH cooling
SmartThinq connected appliance
225/27/93 Litre fridge/Multi Room/freezer capacity
Multi air flow
Reversible door
Big Box freezer drawer
Dimensions
(H)201cm x (W)59.5cm x (D)68.6cm