Product Information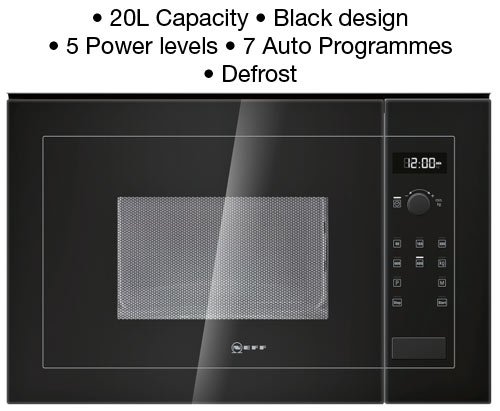 Dimensions:
H38.2 x W59.4 x D31.9 cm
Stylish, compact design
Perfectly formed for small to medium sized kitchens. With a 20L capacity the Neff H11WE60S0G microwave oven holds all you need for quick, hassle free cooking. With its integrated design it saves essential worktop space.
Finished in black, this microwave oven has a clean, contemporary appearance which blends perfectly within all kitchens. The interior of the microwave oven is finished in stainless steel, making it durable and hardwearing.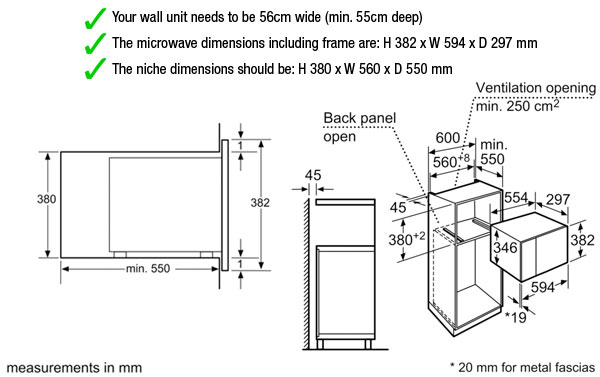 A range of cooking possibilities
Equipped with 5 power levels ranging from 90 to 800 watts alongside 7 auto cook programmes, cooking possibilities are much broader. You're sure to find a program and temperature to suit any dish.
Using auto programmes 1 to 4 you are able to defrost minced meat, pieces of meat, chicken and bread which is extremely practical if you forget to defrost your food the night before. Programmes 5 to 6 are catered to cooking specific foods including, rice, potatoes and vegetables, all foods you might eat on a daily basis.
Simplistic usability
With simple electronic controls using this microwave oven is simple for anyone. The retractable rotary dial, clear open door button, LED display and interior light enhance the easy usability of the Neff H11WE60N0G.
Neff H11WE60N0G microwave oven has a memory function which enables you to save one setting and recall this setting at any time, ideal if you have a favourite dish you cook regularly.
Features:
20L capacity
Stainless steel
Built in design
Silver display EasyClock
5 Power levels
Max 800 Watts
7 Auto programmes
Defrost
Memory function
Electronic controls
Retractable control
Stainless steel interior
Interior light
25.5 cm Glass turntable
Left hinged door
Frameless installation recommended for wall units, but also suitable for tall housing