Product Information
CAPTURE EVERY ANGLE & ASPECT WITH A SINGLE CAMERA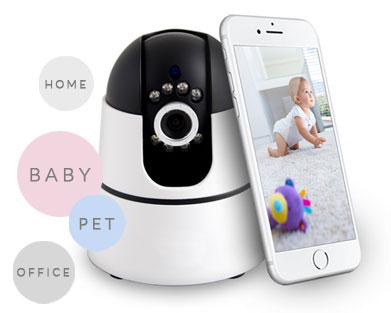 THE PERFECT SOLUTION FOR THE WORRYING PARENT
This quality surveillance camera is more than a step up from the traditional baby monitor. Keep a constant eye on your bundle of joy and be alerted when they need you. Discreetly monitor others when it comes to babysitting, giving you peace of mind. If your baby is easily distressed offer reassurance with the sound of your voice using the cameras 2 way audio.
This small camera can be put to many uses. Monitor pets, reassure them or discipline them, even when they think no one's watching! Keep a look out for thieves and capture detailed evidence. Watch over your business and monitor employees.
PLUG & PLAY
It couldn't be easier to set up surveillance in your home. With the electriQ baby security camera simply plug and play. There's no messy installation required, just position the camera in the room or use the included bracket for a more discreet position.
This smart surveillance camera plugs into the mains and once connected via wi-fi up to 3 users can access the live footage to keep an eye on the chosen room.
The camera is fully secure to your own wi-fi network. Only those who scan the QR code on the base of the camera can watch.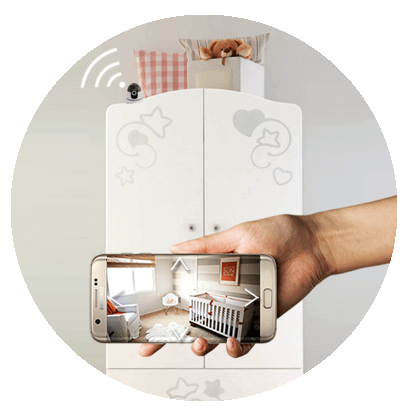 REMOTE VIEWING
Remotely view footage from anywhere on your smart device. Whether you're watching on a smartphone, i-pad or PC footage is crystal clear.
Unlike other indoor surveillance the electriQ baby security camera can capture more. This cleverly designed camera has 60° vision, with pan and tilt capabilities which you control remotely.
Using your smart device turn the camera 330° horizontally and 90° vertically, you won't miss a trick as this quality camera enables you to watch the entire room.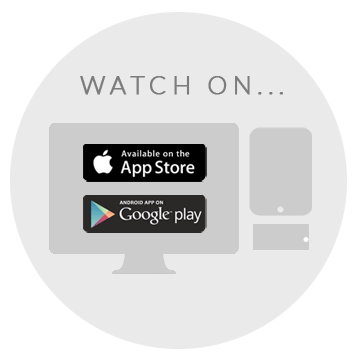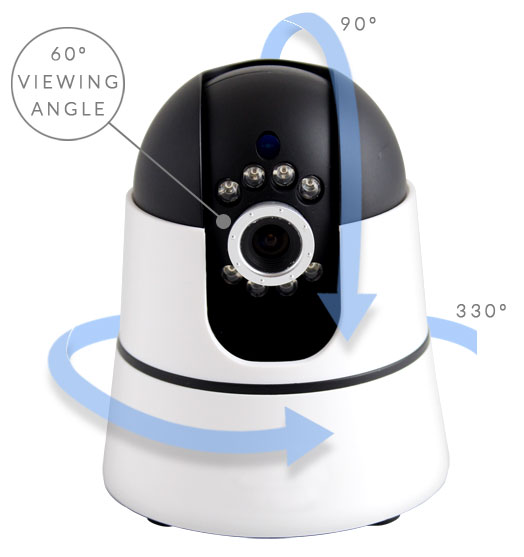 MOTION DETECTION
Featuring motion detection technology you can easily set the camera to notify you when movement is detected within the room via a notification on your phone.
If you happen to miss the action don't fret as the camera can be set up to continuously record or record only when motion is detected.
Recordings and captures are all saved to a microSD memory card, making them easily accessible.
DAY & NIGHT
Keep tabs on your chosen room day or night. With infrared technology picture quality isn't effected when night comes, view details from up to 15 meters away.
Capturing in 1080p resolution your footage is sharp and vivid, five times more detailed than standard definition.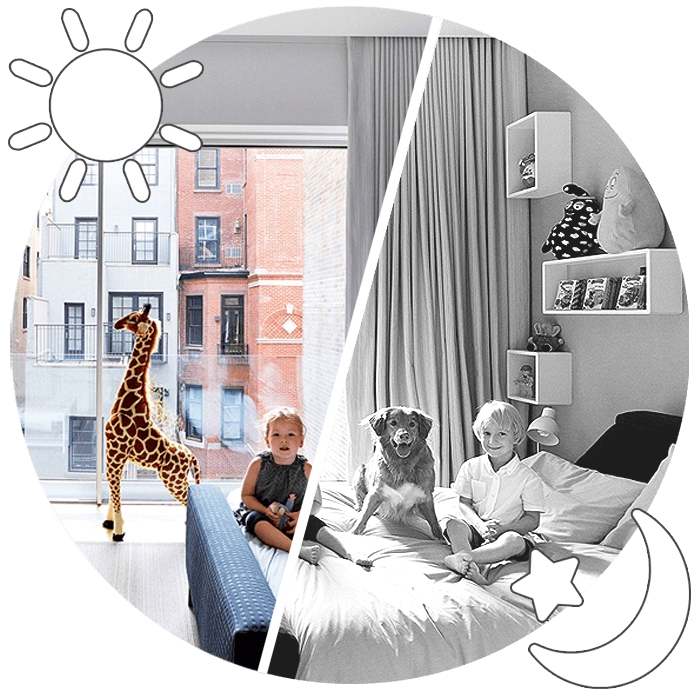 LISTEN & TALK
One of the fantastic features of the electriQ baby security camera is the two way audio. Listen clearly to live audio within the room and simply hold down a button on your smart device whilst watching live to communicate back. The perfect way to reassure your baby or pet with the sound of your voice.

FEATURES:
Easy to install indoor wifi security camera
View live, record and capture footage
Remote viewing via your smart device – watch anywhere
Cover every angle of the room with 1 camera
60° Camera viewing angle
Turns 90° vertically & 330° horizontally
Motion detection with optional alerts
Control the camera view via an easy to use app
2 Way audio - listen & communicate
Night vision up to 15 meters
Ideal baby monitor
Watch your pets, home or office
Stores footage with a microSD memory card – easy accessibility
Compatible with iOS & android

View our setup guide


High
Quality
Manufactured in the same factories as the leading brands.

Great
Value
The UK's lowest prices with no compromise on quality.

Design and Technology
electriQ design high quality products using the latest techology.
Hundreds of Products
An extensive range of products from large appliances to gadgets.