JUICE YOUR WAY TO A HEALTHIER LIFESTYLE
Easily juice up whole fruit and veg to create filling beverages that will be packed full of flavoursome nutrients.
With the help of the electriQ Whole Fruit Cold Press Masticating Juicer we can all get a little more of our 5 a day. Create juices, smoothies and nut milks. The ideal kitchen accessory for the health conscious, dieters or simply those who love a good juice with minimum effort.
HOW DOES IT MAKE HEALTHY JUICE?
The electriQ juicer crushes then presses the ingredients, this technique gains you high levels of juice with little waste.
Juicers with higher spin speeds will destroy a lot of nutrients before they reach your glass because of the heat they create. The IQWFSL juicer uses a slower spin speed to minimise friction, this will maintain more nutrients and keep juice fresher for longer. This whole fruit juicer is equipped with powerful augers which means extracting juice at a slower spin speed takes no time at all. With an impressively low spin speed of 45 rpm the electriQ juicer is one of the best in it's class.
JUICING MADE SIMPLE
Juice with no fuss thanks to an 8.8cm chute. This wide chute enables you to juice larger portions and even whole fruit and vegetables. Reducing or even eliminating any preparation work you may have needed to do with other juicers.
The electriQ slow masticating juicer can juice soft fruits, hard fruits, vegetables, grasses and leafy greens, the perfect cocktail for the fitness fanatic.
You can also create nut milk with the juicer by using ingredients such as almonds, peanuts and soybeans which need to be soaked in water before. An excellent healthier dairy alternative.
With a variable speed of 45 to 55rpm, a selection of pre-sets and one button operation, its easy to get started and on your way to juicing up your own tasty concoctions.

WASTE NOT WANT NOT
The electriQ slow masticating juicer extracts the maximum yield of juice leaving nothing behind but pulp. When juicing the provided container enables you to collect all excess pulp with ease.
There's no need to waste anything, the collected pulp can be used in recipes! Boil up a vegetable broth, make up some fruit ice pops or even bake a cake.
KITCHEN COUNTER PERFECT
With a vertical design that's compact and modern the electriQ slow juicer makes for a stylish kitchen addition that you can be assured wont dominate your kitchen counter. If you do decide to store away rather than display, the juicer is easy to disassemble for storing.
There's no awkward or lengthy clean up with this juicer either. Featuring a self-cleaning blade you can easily give the juicer a clean between juicing different recipes and before disassembly. Simply use the cleaning pre-set and add water to the juicer.
WHAT'S IN THE BOX?
Cold Press Juicer with fine juicing screen
User Manual with Recipes
Juice Jug
Pulp Tank
Cleaning Brush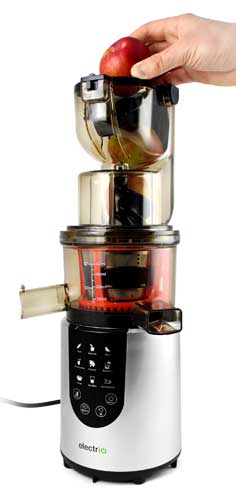 FEATURES:
Juice all fruits, vegetables, green leaves and makes delicious nuts milk
Preserves nutrients, taste and colour when juicing
Ideal for the health conscious, dieters & fitting more of your 5 a day in
Child Safe locking mechanism
Juice whole fruits with no chopping thanks to the 80mm chute
High juice extraction with little waste
Cold press juicer, fresher juice for longer
Smart mixer system delivers perfect juice or smoothie mixing
Vertical space saving design
Easy to use LED digital control panel
One button operation
Variable speeds 45-55rpm
Easy to use pre-programmed functions covering 9 different programmes
Quieter than other juicers with a 200W motor
Easy to assemble & store away
Easy to clean with self-cleaning blade
Smart mixer system
Large juice & pulp containers
Not suitable for frozen fruits or grains
Micro switch & inlet design double safety system