Product Information
The AEG Competence Electric Built-under Double Oven in stylish stainless steel is the perfect solution for an efficient kitchen. Add cooking capacity to your kitchen without sacrificing on space. The oven hosts a whole load of features to get you cooking faster whilst being more energy efficient. Defrost food in the oven in less than half the time, add a crispy top to main meals with the variable grill or heat up a perfectly baked pie with base heat finishing. This highly versatile oven even has you covered when it's time to clean up with catalytic cleaning.
HIGHER PERFORMANCE
The main oven cavity of the AEG competence double oven features a Hot Air Fan System, which ensures hot air circulates evenly throughout the oven cavity.
Efficiently circulating hot air delivers a quicker cooking process which is also much more energy efficient. It also provides even heat distribution inside the oven, giving you better cooking results no matter where you place your food in the oven.
SPACIOUS COOKING
The main oven has a 46L capacity whilst the top oven has a 40L capacity. Ideal for cooking multiple dishes with an impressive 86L total.
With a larger capacity comes more shelf positions, giving you better sliding access to the ideal cooking levels, perfectly position more dishes at the same time. The telescopic runners give you full control when pulling out shelves, more precision when loading larger dishes into the oven.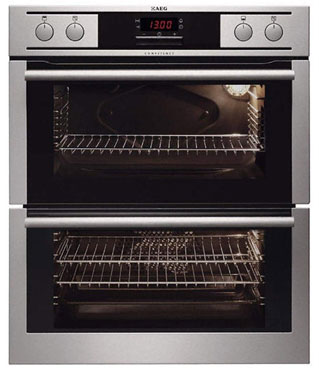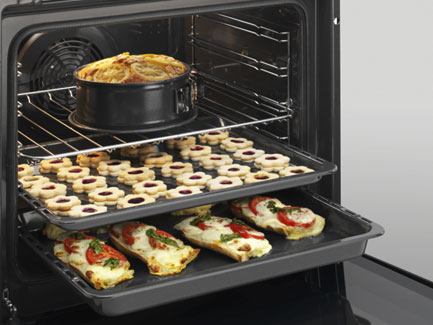 MULTIFUNCTIONAL
The AEG competence oven gives you versatile cooking. The top oven provides conventional cooking, heat from the top and bottom elements provides a traditional cooking atmosphere with zones, perfect for baking bread and cakes with the top of the oven becoming hotter.
The top oven delivers economy variable grill cooking, giving you more control, great for snacks and adding a tasty crisp top or browning to meals.
SPEEDY CLEANING
This intelligent double oven makes light work of cleaning. The Cataluxe® cleaning system oxidises grease and dirt, and regularly heating the oven up to 220°C will burn away the grease and dirt.
Both oven doors and glass panels within the doors can be removed, making cleaning easier when it comes to giving your oven a thorough clean.
Features:
Increase cooking capacity without losing space
Stylish built under double oven, seamless kitchen integration
Hot air fan ensures even heat circulation for perfect results
Conventional main oven cooking
Economy variable grill top oven cooking
Faster and more energy efficient cooking
Intelligent technology makes cleaning easier
More shelf positions with better sliding access
Isofront® double glazed doors, keep heat locked in
Seamless retractable controls with LED display
Base heat finishing, heat from the bottom element only, ideal for pies and pastries
Fan controlled defrosting, defrosts hygienically in less than half the time
Temperature range: 50-275°C
AA energy efficiency rating
Removable oven doors and glass for easy thorough cleaning
PLEASE NOTE: This is a built under double oven that should be installed under a worktop.