Product Information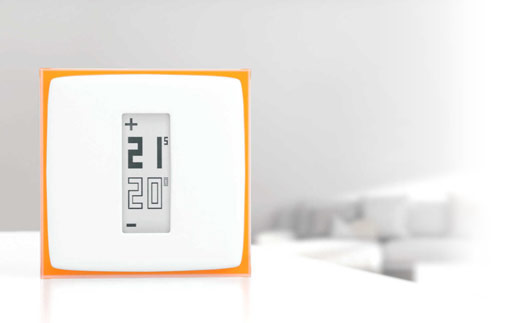 A product of the connected lifestyle range is the Netatmo Thermostat which enables you to control your heating, remotely.

SMART HEATING IN YOUR HOME
The Netatmo Thermostat can set a program to reflect your living habits. With its Auto-Adapt function, it predicts the start of the heating periods depending on your household insulation and the outdoor temperature.

ENERGY SAVER
For each month of the year, your personal Energy Savings Report lets you track your home's energy consumption and helps you to schedule your heating more effectively. This could mean that the Netatmo Thermostat will save up to 37% of your household energy consumption, reducing carbon footprint too.*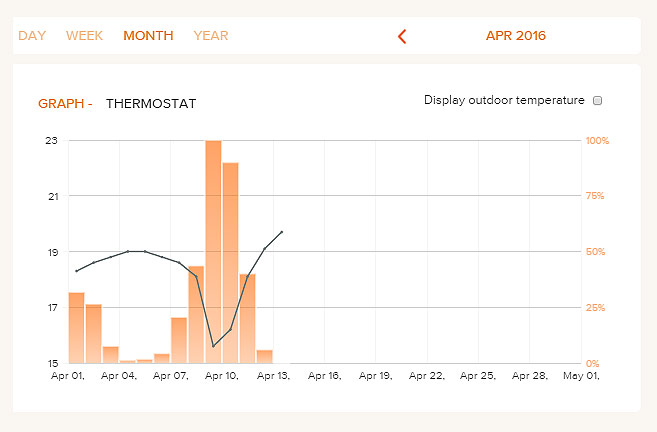 ENERGY IN GRAPH FORM
With the dedicated Netatmo app, you'll be able to monitor your past energy consumption. Both indoor temperature and boiler (gas, fuel or wood) activity is recorded continuously in the app, which can be downloaded (for free) from the App store, Google play or Windows Phone Store.
SEAMLESS DESIGN
The simple and minimalist design by Starck means that the Netatmo Thermostat will blend seamlessly into any home decor. And with five interchange colours to choose from, you'll be able to find one which suits.
Compatible with:
iPhone 6 Plus, iPhone 6, iPhone 5s, iPhone 5c, iPhone 5, iPhone 4s, iPhone 4
iPad mini, iPad (4th generation), iPad (3rd generation), iPad 2
Android 4.0 (minimum required with access to Google)
Windows Phone 8.0 (minimum required)
Accessories included
Mobile stand plus wall bracket
Relay
Boiler adapter
Mains adapter
Mounting plate
USB cable
5 colour adhesives
3x AAA batteries
Screws & screw anchors
*Average reduction in energy used for heating by Netatmo owners between November 2014 and March 2015