Product Information
The Beko OIF22300X fan oven in stylish stainless steel seamlessly integrates into your kitchen with its built-in design. Offering an impressive 65L of cooking space its ideal for the family home. EcoSmart the oven helps to save money by reducing your energy bills.
FAMILY SIZE
This spacious 65L oven is equipped with an extra-large family tray, providing a 21% larger cooking area. Excellent for batch baking and with a depth of 5.5 cm it's also ideal for cooking large joints of meat.
FAN ASSISTED COOKING
Fan assisted this Beko oven circulates heat evenly with an upper and lower heating element. Ideal for baking and roasting as the oven ensures more consistent results.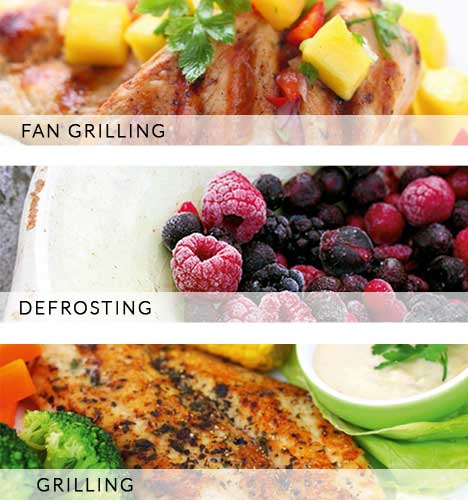 TRUE FAN COOKING
Ovens with True Fan cooking feature a heating element surrounding the fan, this provides uniform heat distribution. Delivering quick and even cooking results.
FAN GRILLING
Fan grilling produces quality results, perfect for sealing in juices as the fan circulates heat. Even heat ensures the food is browned and crisped evenly on top.
DEFROSTING
The oven features a defrost function which is a perfect alternative to leaving food out to defrost. The defrost function ensures food is defrosted properly and hygienically.
COOKING SIMPLICITY
The ovens window has a wider design, enabling you to effortlessly check on food without having to open the door. Great for foods such as cake and Yorkshire pudding where interrupting the heat by opening the door could potentially spoil the outcome.
With a fully programmable timer you can cook with precision. Pre-set the oven in advance and come home to cooking food.
EASY CLEAN
Cleaning the oven has never been easier. The oven interior has been coated in enamel, making it super easy to wipe clean. The door glass is fully removable as well as the side racks, enabling you to easily give the oven a thorough clean.
ENERGY EFFICIENT
The OIF22300X oven is part of Bekos energy efficient EcoSmart range, verified by the Energy Savings Trust. This oven has been rated A for energy efficiency, using 35% less energy compared to C rated models. Rest assured this oven works efficiently to be kinder to the environment whilst reducing your energy bills, resulting in money savings.

Features:
Spacious 65L capacity
Fan oven and full width grill
EcoSmart, uses 35% less energy
Fan assisted cooking, even heat with consistent results
Defrost food quickly and hygienically
Family sized tray – 21% larger cooking area
Fully programmable cooking timer
Dial controls with LED display
Stylish built-in design for seamless kitchen integration
Wide glass window, easily check on food without opening the door
Easy clean enamel interior
Removable glass inner door, easy cleaning
Easy to remove side racks for a thorough clean
Grill pan with internal rack included
Drop down door
2 Shelves with 5 shelf positions
Energy efficiency rating: A
2 Year manufacturer warranty
Dimensions: H59.5 x W59.4 x D56.7 cm