Product Information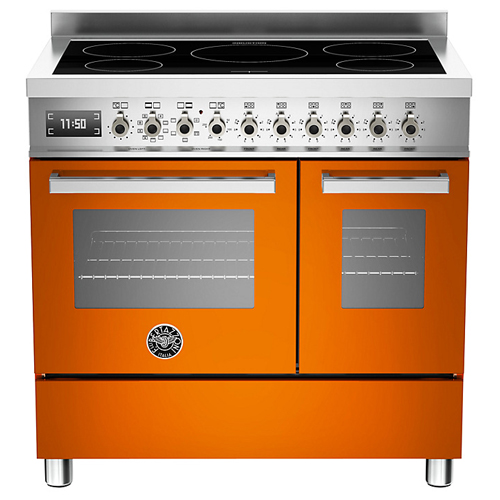 Dimensions: H89cm x W89.5cm x D60cm
CREATE CULINARY MASTERPIECES
The Bertazzoni Professional Series 90cm Electric Induction Twin Range Cooker brings the authentic experience of Italian cooking to the heart of your home. Delivering perfect cooking versatility, combining a range of different functions, enabling you to confidently create culinary masterpieces.
Instantly liven up your kitchen with the Bertazzoni Professional's stylish Italian good looks in eye-catching orange. With its high-end fit and finish, the Bertazzoni range cooker is specified and precision engineered for exceptional reliability and durability.
DEFINITIVE COOKING MACHINE
This professional range cooker can easily handle any cooking task you throw at it, with a 69L main oven, 38L secondary oven and a 5 zone induction hob.
Cook up a feast with the vast variety of functions available. The main oven features 9 different functions from convection, baking and grilling to warming, whilst the secondary oven features 5 modes, including a rotisserie option. Dishes will be beautifully cooked as the balanced air-flow ensures heat is distributed evenly throughout the oven, perfect for multi-level roasting and baking without flavour cross-over. The Bertazzoni delivers precise control and allows you to lower temperature settings, reducing weight loss and preserving nutrients.
With 5 hob zones available you can really cook up a storm. These modern induction zones feature pot detection and residual heat indicators per zone for safety and convenience. Using electromagnetic energy heat is directly transferred to the pan quickly, full power is available immediately, letting you get straight down to business.
ENERGY EFFICIENT
The Bertazzoni Professional range cooker is highly energy efficient and can even help to lower your bills. The main oven has been awarded an 'A' for energy efficiency whilst the secondary oven has an 'A+'. With a triple glazed oven door heat loss will be minimised, enhancing energy efficiency.
MAIN OVEN
Multifunction electric oven
11 FUNCTIONS:
Bake
Bottom bake
Convection
Convection bake
Convection grill
Defrosting
Fast preheat
Grill
Oven light
Pizza
Upper bake
SECONDARY OVEN
Conventional electric oven
Bake
Bottom bake
Grill
Oven light
Turnspit
Upper bake
EASY CLEAN
A combination of sleek materials makes cleaning the Bertazzoni Professional a breeze. The sleek ceramic glass top of the hob is super easy to wipe clean, no longer will you need to battle with difficult to reach splatters. Whilst the interior of the ovens have an easy to clean enamel lining, say goodbye to hard to remove burnt on food.
FINISHING TOUCHES
The Bertazzoni Professional range cooker can sit flush with your kitchen counters to create a modern, seamless look thanks to adjustable feet. The base of the cooker holds a full width storage drawer, ideal storage for implements, extra oven shelves, cookware, baking trays etc.
Features:
5 Zone induction hob with booster
9 Function main oven, 5 functions auxiliary oven
Triple glazed glass with removable inner glass pane for easy cleaning
Storage drawer beneath ovens
A/A+ rated for energy efficiency
69 Litres usable capacity in main oven, 38 litres in auxiliary oven
Clock, programmable timer
Easy clean enamel oven lining
3 Shelves, 4 positions
Child lock
Defrost function
Flame failure safety device
Freestanding