Product Information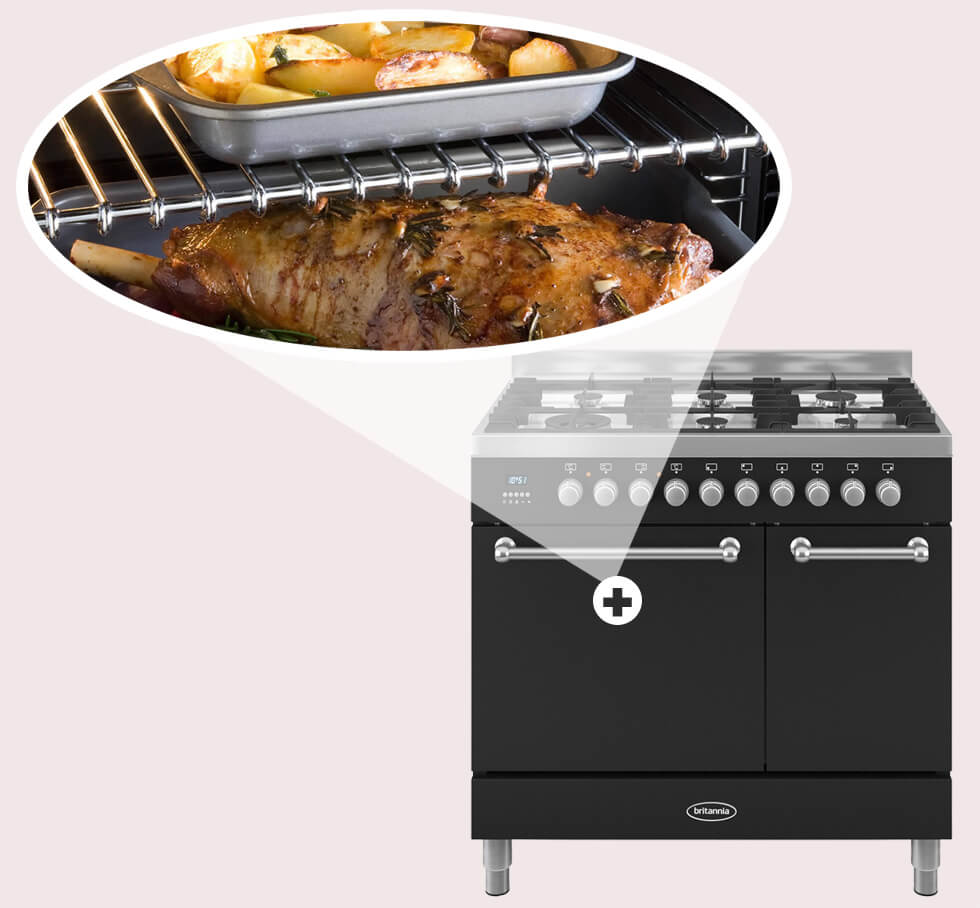 Innovation and Style
This is a stylish dual fuel range cooker with lots of features to not only make cooking easier, but also to keep you and your family safe. The black gloss finish looks fabulous alongside almost any décor and the durable controls make this cooker perfect for families.
Quickstart Double Cooking
This cooker features two electric ovens with triple glazed removable doors for easy access cleaning. Triple glazed doors mean that heat isn't easily transferred to the outside of the oven, making it much safer for children. The left oven has 9 helpful features and a quickstart fast pre-heat feature, meaning you can get cooking much faster. The right oven has 4 functions and a rotisserie for spit roasting; both ovens also feature a grill element and the left oven features a fully automatic programmer and minute minder.
The Britannia RC-9TG-WY-K features heavy duty shelves that are durable and also reduces the need for replacements. An included storage drawer is useful for storing pots and pans, making them readily available when cooking.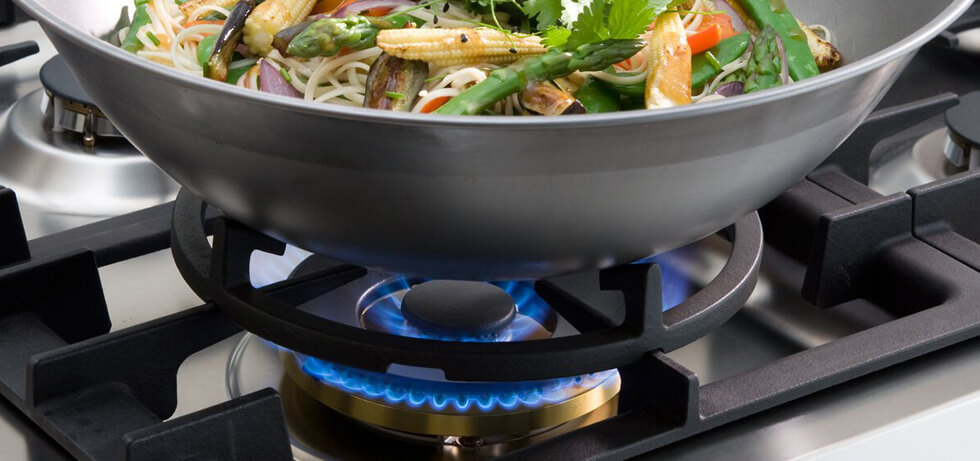 6 Burner Gas Hob
The 6 burner, stainless steel hotplate with long lasting cast iron pan supports is perfect for cooking everything from stir fry to a full English breakfast. The gas hob can also be converted to LPG which is extremely useful for areas where mains gas isn't available, meaning that you'll always be able to use your gas hob, no matter what.
Gas Hob - six aluminium burners
One dual wok burners: 0.48 - 5kW
One large burner: 3kW
Three medium burners: 1.75kW each
One small burner: 1kW
Convertible to LPG (bottled gas) if required
Dedicated cooker circuit with a 20 amp miniature circuit breaker
Cooking Features
QUICKSTART fast pre-heat system (left oven)
9 function (left) electric oven
4 function (right) electric oven
Rotisserie for spit-roasting (right oven)
Grill elements in both ovens
Fully automatic programmer and minute minder (left oven)
5kW dual wok burner (gas hob only)
Energy Rating
Safety Features
Thermostatically controlled fan to prevent fascia from overheating
Oven lights for good visibility
Triple-glazed to prevent doors from overheating
Flame failure devices to shut off gas supply (gas hob only)
Cleaning Features
Removable oven door and inner glass panel
Removable enamelled roof trays
Single piece pressed hob
Other Features
Storage compartment
Height adjustable legs
One hand ignition
Supplied With
Left oven - two wire shelves, one grill pan with trivet & handle
Right oven - one wire shelf, one grill pan with trivet, rotisserie
Dimensions
Cooker - (W) 895mm x (H) 870 - 910mm x (D) 600mm
Left oven internal - (W) 454mm x (H) 354mm x (D) 428mm (Gross: 69 litres, usable: 52 litres)
Right oven internal - (W) 254mm x (H) 354mm x (D) 428mm (Gross: 38 litres, usable: 28 litres)