Product Information
Add the Bosch SPS40E32GB slimline dishwasher to your home and never have to slave over washing the pots again. Slim in stature but surprisingly spacious inside, this dishwasher offers enough space for nine place settings, or 99 pieces of crockery.
Without taking up too much room in your kitchen and without having too big an impact on your energy bills or the environment, this dishwasher is a welcome addition to any home.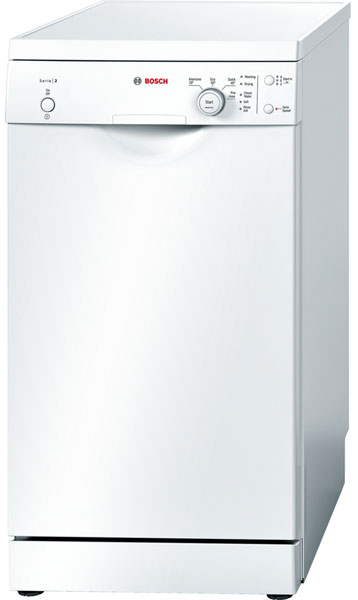 SMALL BUT MIGHTY
Looking small and slim, the SPS40E32GB dishwasher comfortably fits into even the smallest of kitchens. Without taking up a lot of precious space, you will be amazed at the cleaning power of this machine.
Washing up to nine place settings at once, this dishwasher is ideal for the family home and prevents any arguments over who's turn it is to wash up. If you are one for entertaining, you can set this dishwasher going and return to your guests, knowing your pots will come out sparkling.
IN A HURRY?
If you need an item in a hurry, there's no need to fill the sink anymore. Simply use the Quick Wash function on the Bosch SPS40E32GB and your items will be squeaky clean in just 29 minutes.
Tailor each wash to suit the items inside, keeping them safe and producing the best results. With four more programmes including Intensive 70°C, Eco 50°C, Pre-Rinse and VarioSpeed, you can be sure your items will be looked after.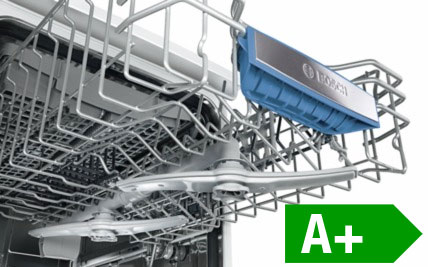 QUIETLY WORKING
EcoSilence Drive technology in this machine offers an efficient cleaning solution with a low energy consumption. Quieter than many dishwashers, the brushless design means you won't even notice the SPS40E32GB working hard in the next room.
ENERGY EFFICIENT
The Bosch SPS40E32GB dishwasher has been designed to ensure it produces excellent results in the most efficient way possible, creating little noise and by using less energy and water. With an energy efficiency rating of A+, you are guaranteed exceptional results without damaging the environment or building up high energy bills.
An AquaSensor system regulates the amount of water required for each wash, depending on the type and degree of soiling. By using light beams to assess the progress, the cycle will stop as soon as the pots are clean, reducing any water waste.
Which? Best Buy Dishwasher May 2017
Features
Energy Efficiency Class: A+
Capacity: 9 Place Settings
Wash Performance Rating: A
Drying Performance Rating: A
4 Wash Programmes
Low Noise Level: 48 dB
2 Years Warranty
Dimensions: 845mm(H) x 450mm(W) x 600mm(D)
4 Programmes: Intensive 70°C, Eco 50°C, Quick Wash 45°C, Pre Rinse
1 Special Option: VarioSpeed
Quick Wash Time: 29 Minutes
Vario Basket System
Height Adjustable Top Basket
2 Foldable Plate Racks in Bottom Basket
2 Foldable Cup Shelves in Top Basket
EcoSilence BLDC Drive
DuoPower Spray Arm in Upper Basket
Heat Exchanger – Hygienic and Efficient Drying
ActiveWater Hydraulic Water System
DossageAssist Detergent Dispenser
Automatic Detergent Detection
Leak Protection System
Stainless Steel Interior
LED Indicators
Alternating Spray Arm
3/6/9 Hour Delay Timer Option