Product Information
HOB DIMENSIONS: W 590 x H 47.5 x D 520mm
CUT-OUT SIZE: W 560 x D 490mm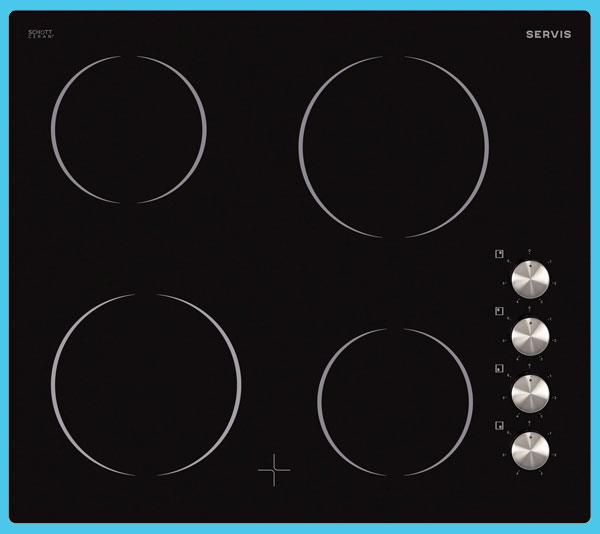 Enjoy quicker results from the energy efficient and stylish Servis four zone ceramic hob. Designed to offer efficiency and convenience, this hob integrates perfectly into any kitchen to help make those bigger cooking jobs seem small.
Stylish and extremely efficient, the Servis STC4K hob is a fantastic addition to any kitchen.

FOUR COOKING ZONES
With four separate cooking zones, there is plenty of space to prepare each part of your meal. Each zone is a different size, ideal for different shaped and sized pans. Choose the ring that is the closest in size to your pan, so the heat is directed straight into the base and less is wasted.
The cooking zones heat up quickly, helping you to get the job done in less time and more efficiently.
SIMPLE CONTROLS
Control each of the four cooking zones from the conveniently placed dial controls to the right hand side of the hob. Each zone has six heat levels so you can choose the ideal heat intensity to suit your dish. With plenty of space between each cooking zone, you can easily cook with four pans at once, each delivering the same results.
SAFETY FEATURES
The hot hob indicator lets you know when a cooking zone is still hot, keeping you safe from accidents and burns while cleaning. Individual indicators represent each cooking zone, so you will also be able to tell if you have turned the wrong zone on for your cooking job.
EASY-TO-CLEAN
The smooth ceramic glass surface of this Servis hob makes cleaning a doddle. Using warm, soapy water, you can wipe away spills, splashes and marks with one sweep. With such a smooth surface, even tougher marks are easier to wipe away.
Features
4 zone ceramic hob
Multiple sized zones for different pan sizes
Hot hob indicator to inform you that the zone is still hot
Easy to use dial controls for precise temperature control
Cut out size – (W) 560 x (D) 490 mm
Hob dimensions – (W) 590 x (H) 47.5 x (D) 520 mm