Product Information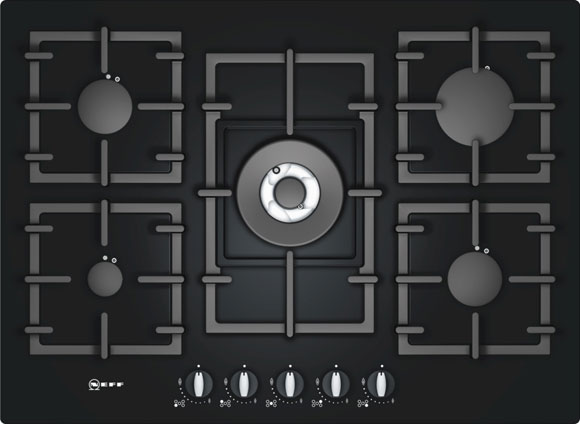 Neff 5 Burner Gas Hob
With 5 gas burners, you can have lots of pots and pans boiling. This Neff gas hob is the perfect kitchen companion with more cooking space than a standard hob. The Neff T63S46S1 is gas operated too, meaning you'll enjoy fast, responsive heat at all times.
Cast Iron Pan Supports
This hob features cast iron pan supports that are incredibly tough and durable. They are designed specifically to handle heavy pots and pans, providing a sturdy cooking surface for you; not only are these supports durable, they also feature a stylish finish that complements any kitchen perfectly.
Powerful Wok Burner
Featuring a built-in wok burner, perfect for stir-frying. This burner provides maximum heat to the bottom of your wok, giving you a great way to cook oriental dishes.
Features
70cm - 5 burner hob
1 wok burner, 1 high speed burner, 2 standard burners and 1 economy burner
4.0 kW wok burner
5 piece black cast iron pan supports
Ignition via control knob
Flame failure safety device
Design
Bevelled oval controls positioned at the front
Two installation options:
- flushline installation for stone or tiled work surfaces
- mounted on top of work surface
Accessories
LPG jets included
Optional Z2471X0 wok pan support for round based wok pans