Product Information
Dimensions: H88.5 - 91 x W90 x D60 cm
The ideal model for your home, offering a wide range of functions and extra-large cooking space, perfect for those who have a large family to feed or those who simply love to cook.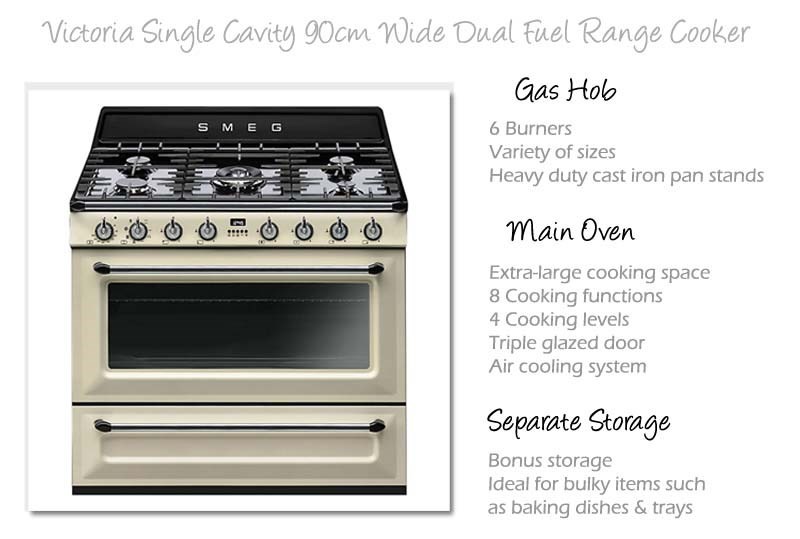 Spacious oven with a variety of functions
The main oven is extra-wide and offers 119L of cooking space with four levels illuminated by two internal lights. With 8 functions to choose from you can pick a setting to suit your dish. The TR90P1 Victoria range cooker is great for batch baking or knocking up a family feast. Select from functions such as circuliare cooking, conventional cooking, various grilling options and there's even a rotisserie function. Utilise the fully programmable electronic timer and never over cook a meal again.
Even, perfect results
Thanks to a triple glazed door the TR90P1 maintains a regulated temperature, cooking your food evenly. Even the trickiest of dishes will come out perfect.
Easy clean
When the cooking is over and it's time to clean up don't despair, the interior of the oven has been finished with black enamel which can be wiped clean and the oven door is removable. The TR90P1 also features catalytic liners which reduce the amount of manual cleaning you will need to do. The liners gather grease and dirt which is then burnt off or oxidised when the oven heats up. Making cleaning super easy!
Cook up a storm with 6 burners
The gas hob holds 6 burners all different sizes, whether your using a small sauce pan, frying pan or large wok there's a burner designed to distribute heat perfectly according to your pan size. Fitted with heavy duty cast iron pan stands providing excellent stability, your pans are going nowhere.
Burner power:
Front right: 1.0 kW
Rear right: 1.8 kW
Centre: 5.0 kW wok burner
Rear left: 1.8 kW
Front left: 2.9 kW
Accessories:
Rotisserie kit
2 x Roasting/grill tray
2 x Chrome shelves
Moka support
Wok support
Features:
Oven capacity 119L
Gas hob with 5 burners
Heavy duty cast iron pan stands
Automatic electronic ignition
Safety valves
Digital electronic clock/programmer
8 Cooking functions
Air cooling system
Closed door grilling
4 Cooking levels
Triple glazed door
Easy clean enamel interior
Separate storage drawer
Adaptable for LPG
Nominal power: 4.1 kW
Power supply required: dedicated cooker circuit fused at 30/32 amp
Energy rating: B