Product Information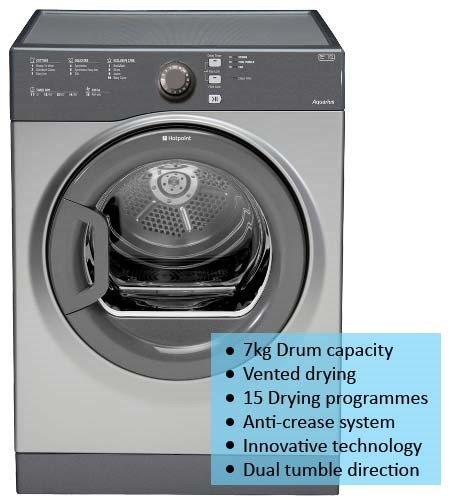 Dimensions:
H85 x W59.5 x D55 cm
Finished in stylish graphite the Hotpoint TVFS 73B GG freestanding vented tumble dryer complements any setting. Featuring new Hotpoint technology with a drum capacity of 7kg the TVFS 73B GG is ideal for families, designed to take care of your garments.
Innovative technology
Features include Fibre care, specifically designed to care for delicate garments by automatically adjusting the settings so that the lowest temperature is used for a longer duration, this ensures a thorough but gentle wash.
Anti-tangle technology uses a reverse tumble action to deliver evenly dried clothes without tangling them all together, making them look better for longer.
Anti-ageing technology utilises an innovative wave drum design, lifting garments softly on a cushion of air. This technique maintains the clothing's natural softness and colour.
A sensor drying option enables you to set your dryer and forget about it until the buzzer sounds. Drying your laundry perfectly to the level you have specified.
Drying programmes:
Bed and Bath
Synthetics
Cottons
Jeans
Silks
Easy Iron
Refresh
Refresh
A very practical programme that the Hotpoint TVFS 73B GG has to offer is the refresh program. This program can be used as an alternative to washing for clothes that have perhaps only be worn for a few hours or have been unpacked from storage. The refresh program is a 20 minute cool treatment for dry clothes to air and refresh them.
Practicality
The Hotpoint TVFS 73B GG has an anti-crease system to reduce and illuminate in some cases the need to iron your garments. At the end of each program a buzzer will sound to alert you. There's a water tank empty indicator, letting you know when it's time to refill, so you can easily maintain your dryer. With a child lock you can rest at ease leaving the dryer to do its thing, no programmes will unintentionally be changed.
Features:
Energy efficiency class: B
Drying capacity: 7 kg
Drying type: Vented
Dual tumble direction
15 Drying programmes
Time delay
Anti-crease system
Cotton Extra dry
End of cycle buzzer
LED display
Water tank empty indicator light
Child lock
Removable filter
Energy consumption per year: 4.0 kWh
NOTE: The vent Hose connects at the back of the appliance