SEE YOUR GARDEN COME ALIVE
Have you ever wondered what goes on in your garden through the night or when you're not home? You could be missing out on a host of amazing wildlife activity from a wide range of animals and creatures on a daily basis. Set up this camouflaged wildlife camera and don't miss out anymore. You could be surprised at the activity you'll see and hear. This camera offers stunning details at any time of day or night and in all weathers. It can even be set to detect motion so you definitely won't miss out on the latest goings on.
HD Video Recording
High Quality 12MP Camera
Suitable for all weather conditions
Night Vision up to 15M
Motion activated recording
Battery Powered - Easy Install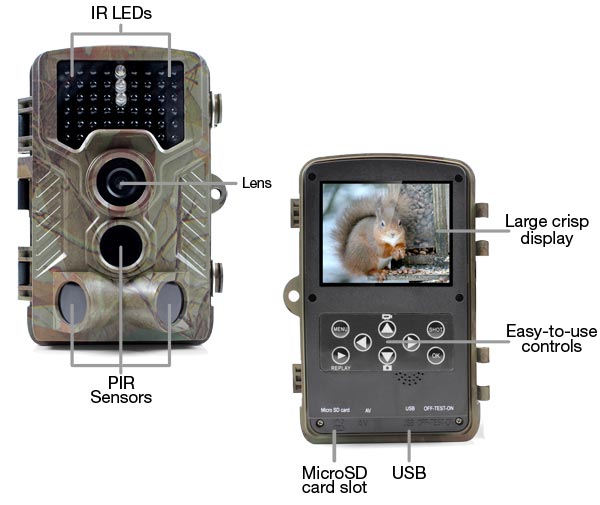 PLUG & PLAY
This camera is so easy to set up, you can simply switch it on and let it do all the hard work. Powered by 4 x AA batteries, this camera will work for up to 3 months without the need to change the batteries. You can even add an extra 4 x AA batteries to the battery slots on the back of tha camera to make it last up to an incredible 7 months. You can place the electrIQ Outback Cam almost anywhere, indoors or out, thanks to its compact and sturdy build. It's strong body and long-lasting battery life means you can mount it in extremely remote locations and let it capture amazing activity for months on end.
CONVENIENT STORAGE
Record your footage onto the included 8GB SD card using the handy slot and you can easily access and share your recordings between devices. If you want to record more, you can simply swap the SD card for one with a memory of up to 32GB. A handy 2" colour display lets you watch your camera's results on location.

Features:
Clear resolution, 1080p camera for a crystal clear picture
Powerful night vision of up to 15 metres
Battery powered for ease of use
Viewing angle of 62 degrees to monitor wildlife or unwanted intruders
Weatherproof rated for use indoors or outdoors
Specifications
Video Format: AVI
Video Resolution: 1920 x 1080 pixels
Video Frame Rate: 15 fps
Video Recording Duration: 1 ~ 60 seconds
Still Image Format: JPEG
Still Image Resolution: 5, 8 or 12 Megapixels
Multiple Still Image Capture: Yes (up to 7 photos per trigger)
Image Overlays: Date / Moon Phase
Record Delay Range: 5 seconds ~ 10 minutes
Night Vision Distance: Up to 50ft / 15m
Number of Infra-Red LEDs: 40
Battery Type: 4 or 8 x AA
Memory Type and Size: SD Card up to 32GB
Sensor Range: Up to 50ft/15m
Sensor Trigger Speed: < 1 second
Dimensions
D x W x H: 76 x 90 x 136mm
Contents
12MP Camera
Tree Mounting Strap
USB Cable
Operating Instructions

Why not add a 32GB MicroSDHC flash card SDC10G2/32GBSP