Product Information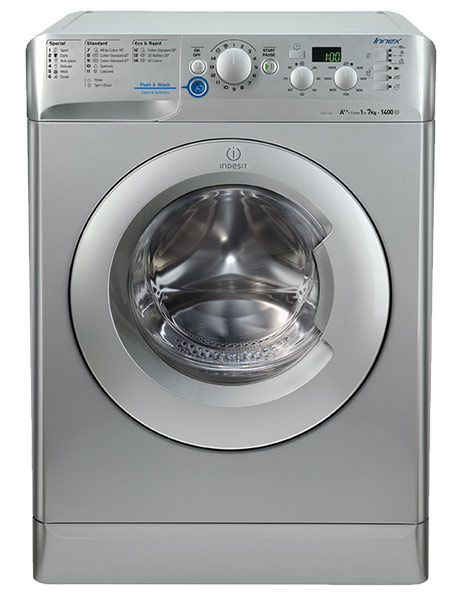 Get your laundry done quickly and effectively with the Indesit Innex XWD71452S washing machine. With a wide range of washing programmes, including special programmes, you can guarantee amazing results, even from the dirtiest of clothes.
16 standard washing programmes give you the ability to tailor your wash perfectly to suit your load without the need to adjust each specific setting. Programmes include dark, delicate, cotton and easy iron so you know everything from the most delicate pieces to the thickest jumpers will be washed to perfection.
Ideal for small to medium sized families, this washing machine's 7kg drum can handle around 35 adult t-shirts and, with a spin rate of 1400rpm, your laundry will dry much more quickly.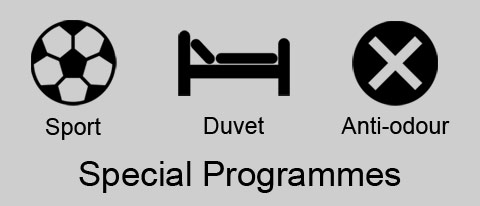 Special Programmes
This washing machine offers a number of specially adapted programmes to help provide the best results from the toughest loads.
Select the programme to match your load and the Indesit XWD71452S will take care to produce the best results.
Sports
The dedicated sports programme means you don't need to worry about getting those tough and stubborn mud and grass stains out of your kit anymore.
Duvet
Duvets can be hard to clean. The thickness, padding and awkward size make it difficult to wash thoroughly, but the duvet programme will get yours looking and smelling fresh without the hassle.
Anti-Odour
Perfect for the gym-goer, the anti-odour programme features a tailored drum movement, additional rinse and precise temperature controls to eradicate those lingering smells.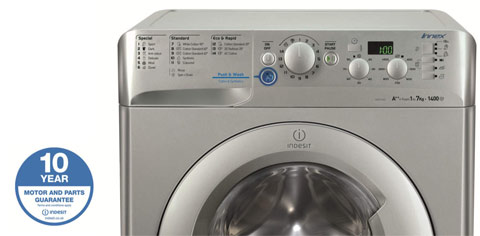 Push & Wash
For those busy moments where you simply don't have the time to select the best programme, Indesit offer the Push & Wash programme.
Put your washing load in the XWD71452S, add your detergent and press the big blue button for a handy, 50-minute wash that is great for mixed loads.
Fast Forward
The Fast Forward feature has been designed for those times when you need your washing done in a hurry. This function triggers a rinse and spin and brings your cycle to an end in just 20 minutes.
Water Balance Technology
Save time, energy, water and money with Indesit's Water Balance Technology. This works by sensing how big your load is and adapting the amount of water to match, leading to less waste and energy use for a smaller load.
Key Features
Washing capacity: 7kg
Spin speed: 1400rpm
Energy efficiency: A++
16 programmes
Programmes include: Sports cycles, quick wash, Wool, Mixed load, Dark Wash, Cottons and many more
Easy Iron
Extra Rinse
Anti Odour
Delay timer
Fast Forward Function
Water Balance Technology
Delay timer
Large drum
Timer Saver Function
A Rated Wash Performance
B Rated Spin Performance
Variable Temperature and Spin Speed
Colour: Silver