Product Information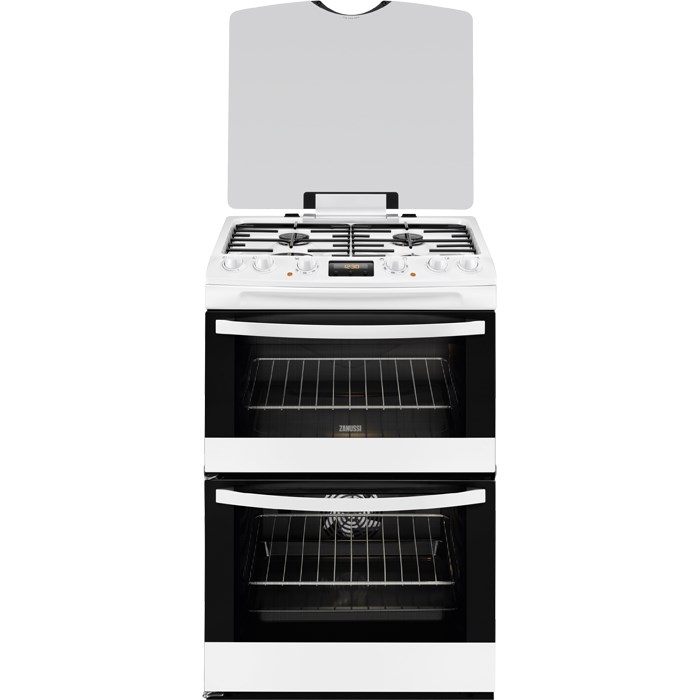 Zanussi Gas Cooker
This double gas cooker and hob from Zanussi is the perfect kitchen companion. This cooker heats up quickly to get you cooking faster and with a wide range of useful features, you'll find cooking fun, fast and simpler than ever with this double gas cooker and hob.
Fantastic Features
The oven timer function will alert you once your dish is ready and the oven will roast or bake for whatever time you set, this is great for ensuring the meal is always ready on time. Catalytic liners absorb grease before burning it up at extremely high temperatures, this provides an easy and simple solution to tedious oven cleaning. This oven has two cavities and so gives you the flexibility to bake and grill at the same time; two cavities, twice the flexibility.
Isofront Doors & Thermaflow Oven
Isofront double glazed doors protect you and others from dangerously high temperatures, great for families. A 25% larger baking tray enables you to cook even more food for more people, which is really useful for entertaining guests, or that all important Sunday roast. An A energy rating means that this product is very efficient, saving you money on your utility bills and saving energy. The Thermaflow fan oven forces air over a central ring element creating even heat coverage throughout the oven; this also saves time and energy by cooking at lower temperatures and heating up significantly faster than conventional ovens.
Oven timer function for food ready when you want it
Catalytic lining to automatically deal with grease
Double oven provides added capacity and flexibility
25% larger baking tray enables you to cook more food in one go
Conventional cooking
Isofront® double glazed doors
Heat activated catalytic cleaning
Stylish design