Electrolux Appliances at Appliances Direct
Electrolux offers a wide range of single ovens as well as a few double ovens.

Our Electrolux range includes Chimney Hoods, Island Hoods, Integrated Hoods and Canopy Hoods.

Not seen the category you're looking for here? Take a look at all of our Electrolux appliances.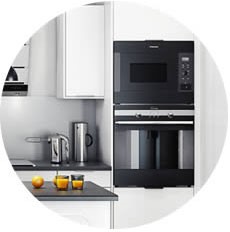 Preferred by Michelin Chefs - 1 out of 2 chefs featuring in the Michelin Guide use electrolux equipment in their restaurant kitchens.
Preferred by Top Chefs - 90 years history of Electrolux making kitchen facilities for top chefs around the world.
No.1 Supplier - Electrolux professional is Europe's No.1 supplier to professionals in laundries and restaurants.
Tested by Professionals - All Electrolux hero appliances feature levels of functionality that were first tested on professional appliances.
Preferred Solution Supplier - 1 out of 3 major hotel chains worldwide chooses Electrolux as the solution supplier for their kitchens and/or laundry facilities


Electrolux are one of our recommended brands because they offer top quality appliances at affordable prices. We are also able to fulfil orders quickly and efficiently with Electrolux. They are committed to making sure every model is energy efficient and meets the quality a Michelin Chef would expect. We love our Electrolux range and hope you do too!


Appliances Direct are a leading online retailer. We strive to bring our customers the very best appliance deals from today's leading brands, whilst offering the best possible advice through our specialist trained team who collectively have over 100 years' experience.