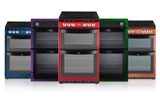 Whether you're just starting out or simply starting over, New World's collection of affordable appliances will help you transform your kitchen into a stylish space without breaking the budget. Furnish your kitchen in style with one of New Worlds contemporary freestanding or built-in appliances, or make a real statement with one of their modern range cookers.

New World is proud to be part of Glen Dimplex Home Appliances, the only manufacturer that builds freestanding cookers, built-in ovens & hobs and range cookers right here in the UK. Manufacturing uniquely British products for British cooks.

New World's first class customer service has seen the brand win the much coveted Total Excellence Quality Customer Care award four times. New World's UK-based customer call centre employs 130 operatives and 200 service engineers.

New World has won the Queen's Award for Enterprise, in the international trade category. The Queen's Awards for Enterprise are one of the UK's most prestigious accolades for business performance, and the award recognises New World's outstanding performance in growing sales of its British-made products overseas.

Appliances Direct are a leading online retailer. We strive to bring our customers the very best appliance deals from today's leading brands, whilst offering the best possible advice through our specialist trained team who collectively have over 100 years' experience.

Appliances Direct have chosen New World as a recommended brand. With a firm stance within Britain and great British cooking as well as a focus on family favourites, New World deserve to be acknowledged. New World's award winning customer care will ensure you are looked after and supported post-purchase.