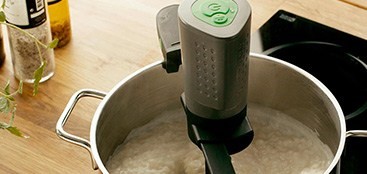 Powerful automatic stirrer
The Stirio is an automatic stirrer powerful enough to stir a large pot of food for up to 45 minutes! It's two stirring speeds mean the Stirio can be used to stir anything with precision, whether it be risotto, porridge, soup or stew. The Stirio runs on rechargeable batteries, and comes with a handy charging station. Now you can take care of other work, or simply enjoy some time off, while the Stirio takes care of your food, ensuring nothing gets burned in your pots and that your food is cooked evenly for a better taste.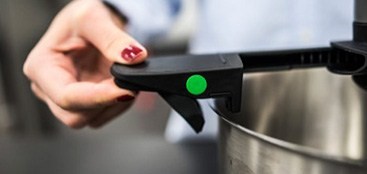 Adjusts to your pot
The Stirio has adjustable axles and arms, so it will fit onto a wide variety of pots. Stirio can fit any pan between 16 and 28cm in diameter; simply adjust the length of the arms and secure the robust crocodile-style clips to the side of your pan. Such a unique design means you can leave the Stirio completely unsupervised with zero risk of it falling or moving out of place.
Versatile cooking styles
With two stirring speeds to choose from the Stirio allows you to pick the perfect setting for your dish. Whether you're cooking something slowly on a low heat or quickly at a high temperature, the Stirio's speed settings will help you achieve amazing results with both styles of cooking.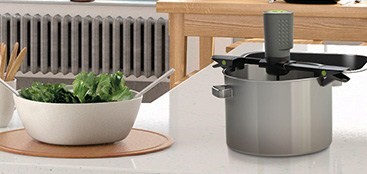 Easy to use, clean and store
The Stirio was designed with easy cleaning in mind. So much so that it can be completely disassembled within seconds with all the parts, excluding the motor, fitting easily in your sink or dishwasher. This handy feature also makes it easy to store the Stirio away between uses.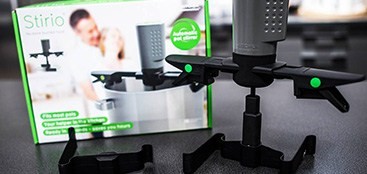 As used by Gordon Ramsay on BBC1's The One Show. Winner of the Reddot Design Award 2014.
Check out the video to find out more information about Stirio