Product Information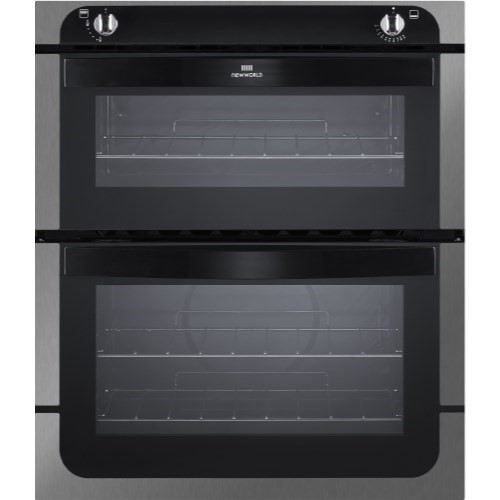 The New world twin cavity gas oven has both a conventional cooker and grill to allow you to create a larger variety of meals for dinner time.
Dimensions: (H) 703mm x (W) 595mm x (D) 550mm
How will it fit into my kitchen?
This double oven is designed to sit under your kitchen countertop. A built under oven is really useful for giving your kitchen a seamless and streamlined style, as well as saving you bundles of space!
Design
The stainless steel and black design of this double oven will look great in most kitchens. The silver control dials on the fascia give a modern and minimalist look to the appliance and stops it from looking cluttered and complicated.
The technical design of this built in oven aims to be as energy efficient as possible. Reflective glass in the door keeps heat inside the oven so that less is wasted, and an internal light gives you ultimate illumination into the oven so that you can see through the window without having to open the door and lose heat.
Conventional gas oven
The main gas oven has 2 shelves and 5 positions, so you can adjust the shelves to suit the size of the meal you're cooking, whether it's a larger roast or a series of cupcakes.
In case the gas flame goes out during cooking, this twin cavity gas oven comes equipped with a Flame safety device that will cut off the supply so that no gas leaks into the kitchen without you knowing.
Variable grill
The top grill cavity is perfect for whipping up a snack or finishing off the top of dishes with a browned, crispy touch.
With 1 shelf and 2 shelving positions, the top oven is ideal as an extra cooking space for those special dinners or even as a place to keep plates warm.
Easy to clean
This oven comes armed with enamel liners that can combat the toughest of stains. Their smooth surface makes wiping away food splatters a breeze, joined by drop down doors that make the oven so much more accessible to clean.
Twin cavity gas oven
Designed to be built under your countertop for a seamless and space-saving look
Main conventional gas oven
Variable grill
Modern and minimalist design
Easy to clean enamel liners