Product Information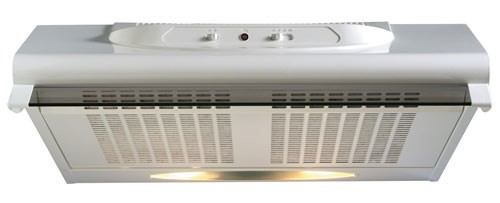 Dimensions: H15 x W50 x D50.5 cm
Extraction rate: 241 m³/hr
Design
This New World UVH50W cooker hood is finished in clean, neutral white, making it highly versatile and easy to coordinate with your other kitchen accessories and décor. The design is simple and easy to use with effective results, offering an extraction rate of 241 m³/hr. ideally suited to smaller kitchen spaces.
Extract or recirculate
Extract or recirculate the choice is yours. If you do decide to extract the air from your kitchen a ducting kit is required (120/100mm) this is not included. If you would like to recirculate the air within your kitchen this hood requires a charcoal filter (not included).
Details
The New World UVH50W cooker hood has some great features to enhance your cooking experience and kitchen space. The hood includes a clear glass visor to help direct fumes and odours for a more effective extraction but also adding style. The front centre of the hood features easy to use smooth slider controls with three fan speeds, select a speed best suited to your dish.
There is a single halogen light, giving you clear visibility of your culinary creations as well as emitting an atmospheric glow. With an acrylic grease filter the clean white theme is carried throughout the design. This filter is easy to remove and wash, helping to you to keep your kitchen pristine.

Low noise
Reaching a maximum noise level of 61 dBA which is around the same noise as a moderate conversation, lower than a radio this hood is not too obtrusive. For best results you should switch your hood on when you begin cooking rather than during as this gives the extractor a chance to begin circulating the air, preparing it for the fumes and odours. This is a good tip for those who also dine in their kitchen as you can then switch your fan off whilst eating.
Features:
3 Fan speeds
White
Easy to use slider controls
1 Integral halogen light
Washable acrylic grease filter
Max extraction rate: 241 m³/hr
Max noise level: 61 dBA
Annual energy consumption: 86.8 kWh
Ducting kit for extraction (not included): 120/100 mm
Filter for recirculation (not included): Charcoal filter
Min height above hob: 650 mm
110 Watt motor rating