Product Information
This contemporary curved glass canopy cooker hood makes for a stylish addition to the kitchen with its modern and clean good looks. Equipped with some effective features to efficiently improve the air quality within your kitchen, this hood is an ideal choice for smaller kitchens. The hood is suitable to be wall mounted above a 60cm hob.
STYLISH KITCHEN ADDITION
This stainless steel cooker hood features a stylish clear, tempered glass canopy which creates a modern focal point for the kitchen. This versatile design coordinates easily within the kitchen and alongside other appliances.
EFFECTIVE EXTRACTION
Equipped with three extraction speeds you can cater the extraction rate to suit what's cooking on the hob. Low is ideal for when you begin cooking and need to eliminate a steady flow of steam and light odours, high will work best when frying and steam produced increases along with lingering odours. This hood has a maximum extraction rate of 210 m³/hr.
A removable and washable grease filter is included with this hood. The grease filter works to capture any airborne grease, this also prevents grease from clinging to clothing and kitchen fabrics.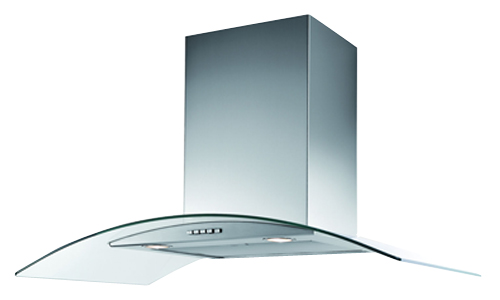 EASY TO USE
The controls of this hood are simple and located on the front centre of the hood for easy and quick access. Each speed level has a push button. Controls for the halogen lighting can be found underneath the hood, on a slider control.
ILLUMINATE YOUR SPACE
Fitted with two halogen lights this hood provides excellent visibility for your cooking space. Along with being practical the lights also add a nice ambiance to your space, ideal if you have an open plan living space or also dine in your kitchen.
EXTRACT OR RECIRCULATE
This hood can be set to either extract air or recirculate it. Extraction is the more effective option however it is not always possible to extract in some homes.
If choosing to extract air a ducting kit will need to be purchased separately to vent out the extracted air. This hood has a ducting diameter of 150mm. If you need to recirculate air rather than extract, it is advised you purchase a carbon filter separately. The carbon filter works to neutralise any kitchen odours.
Features:
Effectively clears steam and odours from the kitchen
Contemporary design in stainless steel
Feature piece clear glass curved canopy
Extract or recirculate
3 Fan speeds for effective extraction
Maximum extraction rate: 210 m³/hr.
2 Halogen lights, clear cooking visibility
asy to use push button speeds & slider control lighting
1 Washable grease filter
Designed to be wall mounted
Ducting diameter: 150mm
Maximum noise level; 55 dBA
Motor: 100 W
1 Year manufacturer warranty
Dimensions: W60 x H53.5 x D49 cm
Please note: This chimney hood is designed to be fixed to a wall.